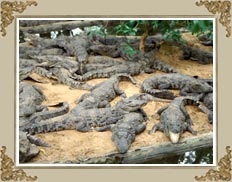 Indira Gandhi Zoological Park is one amongst the largest zoos of India, sited in the natural surroundings of a reserve forest. Sprawled in an area of 625 acres, the park was named after Indira Gandhi - the former Prime Minister of India. It was opened to the public in the year 1977. Located amidst Kambalakonda Reserve Forest in Visakhapatnam, the zoological park is surrounded by the Eastern Ghats on three sides and the Bay of Bengal on the fourth.
The Park houses almost eighty species, numbering to eight hundred animals, in its expanse. Infact, it has special sections for primates, carnivores, lesser carnivores, small mammals, ungulates, reptiles and birds in their natural replicated enclosures. Amongst the primates, the extra attention is gained by Rhesus monkey, Bonnet monkey, Mandrills, Olive and Sacred baboons, whereas Panthers, Tigers, Lions, Pumas, Jaguars, Wolves, Jackals, Hyena, Ratel, etc are the major ones in Carnivores.
The section of Reptiles has Pythons, Tortoise, Terrapins, Monitor lizards, Snakes and Water Monitor Lizards. In the range of Herbivores, the park embraces Elephant, Bison, Sambar, Spotted deer and Thamin deer. Regarding Avifauna, there are Grey/ Rosy pelicans, Pied hornbills, Painted storks, Peacocks, Ducks, Love birds, Cockatiels, Macaws and various other ground birds. You can also walk beside the aviaries, which comprise a diverse collection of birds from the Eastern Ghats.
The animals like Himalayan Black Bear and Sloth Bear are kept in separate huge enclosures. Apart from other animals and birds, the special attraction at the park is made by the Hippopotamus and the Crocodiles, which can be seen basking in the sun. It is for sure that an expedition to this park would be fun for both, old and young. On your trip to Andhra Pradesh, Indira Gandhi Zoological Park is certainly a place worth-visiting.