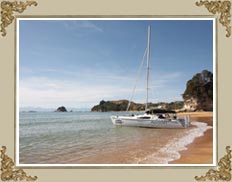 Bheemunipatnam Beach is a peaceful and serene beach, situated along the coastline of Andhra Pradesh. Amidst the blue waters and tall coconut trees, this beach appears to be the perfect site for honeymooners. The sparkling sands that get soaked by the warm waves revive the childhood days, when kids make sand houses. The breathtaking beauty of Bhimunipatnam Beach cannot be bounded in mere words.
Located at Bhimli (Bheemunipatnam), which comes under Visakhapatnam district, this beautiful beach attracts tourists from all parts of India. It also offers an ideal site to take sun-bath, while getting salubrious tan. According to the folklores, the place derived its name from Bhima (one of the Pandavas), who killed Bakasura here. He commemorated his victory by installing an idol of Goddess Lakshmi, on top of a hill.
Another point about this beach is that it is regarded as one amongst the safest beaches for swimming in Andhra Pradesh. A little distance from the beach, you can trace the remnants of a fort, which proves the existence of Dutch settlement in the region. Hollanders Green, an ancient cemetery that dates back to the 17th century, is other attraction to be seen here. To be precise, Bhimunipatnam Beach is a lovely place that would spellbind you with its charisma.