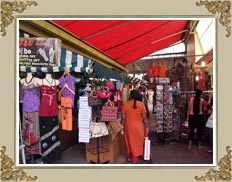 Perhaps industrial centre is the exact term for Visakhapatnam. However, with its sun-kissed beaches and beautiful landscape, the city is also a big hit in the tourism market of Andhra Pradesh. Though Vizag is not a shopper's paradise, it has some quality things to set you on a shopping spree. Indeed you must be pondering over the question of 'what of buy', so here comes the answer. From this port city, you can purchase jewelry, handicrafts, clothes and traditional South Indian metal utensils.
Apart from curios and artifacts, sandalwood products - varying from wood carvings to sculptures - are really nice antiques to splurge. Other famous things of the region are spices, pickles, spices, soaps, perfumes, musical instruments, handmade paper and Indian tea. While shopping from the local market places, keep in mind that you are required to indulge in some bargaining. Before purchasing anything, it is better to confirm rates at other shops too.
To get handicrafts, Lepakshi Emporium Eastern, Art Museum and Girijan Co-operative Society are good places that offer most of the famous state works. Dabagardens is a great place to buy sports gears, ranging from cricket sets to skates. If you want to buy jewelry, then Kurupam Market is the popular gold and silver souk. Owing to the proximity of many shops in markets, you can get great bargains. Markets at Waltair, RTC Complex, TSR complex, Jagadamda Junction, Kurupam and Dwaraka Nagar are quite popular amongst the people.