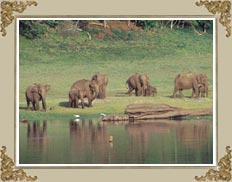 The dense forests in mountainous expanse offers literal habitat to the wildlife. Andhra Pradesh, being a large state, has adequate conditions and environment for the fauna to settle here. In the presence of wide range of animals and birds, along with rich vegetation, the Government took the initiative to make these creatures feel safe. So, away from the bustling city life, they declared certain areas as wildlife sanctuaries and national parks. In the list of wildlife sanctuaries of the country, there are innumerable national parks and sanctuaries that are contributed by the third largest state of India. Click on the following links to know more about the important wildlife sanctuaries and national parks of Andhra Pradesh.
Kawal Wildlife Sanctuary
Kawal Wildlife Sanctuary is the prefect destination to look for multiplicity of flora and fauna in India. Located in Adilabad district of Andhra Pradesh, the sanctuary lies at a distance of 50 km from Mancherila and 260 km from Hyderabad. It was established in 1964.
Shivaram Wildlife Sanctuary
Shivaram Wildlife Sanctuary of Andhra Pradesh is a total delight for nature lovers. Sited on the banks of River Godavari, the sanctuary is known for its population of fresh water crocodiles. This haven truly appears to be immersed in nature's beauty and splendor.
Sri Venkateswara National Park
Sri Venkateswara National Park is another attraction amidst the range of sanctuaries in India. Sited at a distance of 10 km from Tirupati, the park sprawls in an area of 353 sq km, over the Kadapa and Chittoor districts of Andhra Pradesh.
Vanasthali National Park
In Andhra Pradesh, Mahavir Harina Vanasthali National Park is a popular destination amongst the lovers of wildlife. Situated in Vanasthalipuram, at a distance of 15 kmsfrom Hyderabad, the park was established in 1975 and named after 'Lord Mahavira'.
Manjira Wildlife Sanctuary
Manjira Wildlife and Bird Sanctuary is a renowned haven that domiciles large number of local as well as migratory birds in Andhra Pradesh. Near Sangareddy in Medak district, this wildlife refuge is located alongside Manjira River.
Nehru Zoological Park
Nehru Zoological Park is credited with being the largest zoo in India. It is located at a distance of 16 km from Hyderabad and comes under the Bahadupur region. The park was named after Jawaharlal Nehru, the first Prime Minister of India. For wildlife lovers, Nehru Zoological Park is the best place to explore the rich flora and fauna in its natural habitat.
Indira Gandhi Zoological Park
Indira Gandhi Zoological Park is one amongst the largest zoos of India, sited in the natural surroundings of a reserve forest. Sprawled in an area of 625 acres, the park was named after Indira Gandhi - the former Prime Minister of India. It was opened to the public in the year 1977.