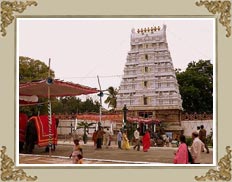 Chittoor is a renowned city in the state of Andhra Pradesh. Being the headquarters of Chittoor district, it serves the financial and administrative requirements of the region. It has the distinction of embracing Horsley Hills, one of the three hill-stations in the state. Along with a folio of historical events, Chittoor is loaded with enlightening scriptures, lush green vegetation and excellent agrarian products.
Located in the Ponni River valley, Chittoor is a major souk for grain, sugarcane, and peanuts. This region is also known for producing the best jaggery in India. Mango trees and tamarind groves further add to the picturesque setting of the city. Majority of the Indian steatite (soapstone) comes from the hills in its periphery. Gandikota, Jyothi, Pushpagiri, Ardhagiri, Chandragiri and Vontimitta are some of the notable places sited in the district.
Chittoor has been the archaic hub of principal dynasties. Tourism of Andhra Pradesh is never complete without adding this city in the itinerary. Besides architectural temples, striking monuments, wildlife sanctuaries and cultural festivals, Chittoor has got really good places like Chase Pillar, Boedi Konda and Yelampalli forest for trekking too. Travel to Chittoor and feel the mystical experience in conjunction with the green environs.