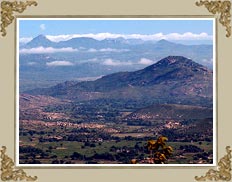 Horsley Hills is a mesmerizing place where lofty peaks appear to be conversing with the blue skies. Perched at an elevation of 1,265 meters, this hill station would certainly tempt you with its beguiling beauty. Sited in Chittoor district, Horsley is the one of the three hill-stations in Andhra Pradesh. Its name has been derived from W.D. Horsley, who was the collector of Cuddapah district and an admirer of the hamlet's beauty.
Inhabited by Chenchu tribes, Horsley Hills has been a kind haven for the heat-scorched souls from years. It is the only coolest place in the southern and western parts of Andhra Pradesh. Travel to Horsley Hills, where divine fragrance of flowers flanking the roads will enthrall you to the core of your heart. Hills enveloped in green forests with exotic variety of flora, make a great resort for the people engaged in chaotic city life.
The forest area boasts of flora like Eucalyptus, Jacaranda, Allamanda, Gulmohar, Reeta, Shikakai, Amla, Beedi leaves, Bay leaves, Sandalwood, Red sanders, Blue Gum, Mahogany and Bamboo. Horsley Hills also presents a panoramic vista of Madanapalle, the only town in the proximity. The scenic beauty of the place captures the interest of anyone to stay here and unwind in the nature's lap.
Nearby in the valley, Rishi Valley School is a popular attraction which is one amongst the best schools of India. Mallamma Temple is a religious place amidst the verdant greenery, adding spiritual aura to this beautiful place. You can trek the region around and if lucky enough, you may come across animals like Bears, Wild Dogs, Jungle Fowl, Sambars and Panthers can come across your sight. The splendor of Horsely Hills also led to it being known as 'Andhra Ooty'.