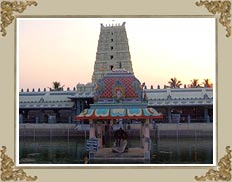 Chittoor has many places around that add to the sheer charm of this historical region. Ranging from ancient temples to shimmering waterfalls, beautiful hamlets to lush greenery, there are enough interesting places near Chittoor, which can make perfect excursions for people. These places are just great to glimpse the heritage of the erstwhile era. Horsley Hills, the lovely hill station of Andhra Pradesh, is the best of all. Tirupati, with the distinction of embracing the world's richest temple, would take you in the transcendental world of spiritual ecstasy. Here is given further information about the tourist places near Chittoor.
Tirupati
Tirupati is the name which requires no introduction. Known for embracing the world's richest temple, Tirupathi is a revered temple town, situated in the Chittoor district of Andhra Pradesh. The city earns a considerable fraction of tourism prospects of only not the state, but the whole of India.
Horsley Hills
Horsley Hills is a mesmerizing place where lofty peaks appear to be conversing with the blue skies. Perched at an elevation of 1,265 meters, this hill station would certainly tempt you with its beguiling beauty. Sited in Chittoor district, Horsley is the one of the three hill-stations in Andhra Pradesh.
Kanipakkam
Kanipakkam is to be found about 55 km to the north of Chittoor. It is known for having numerous ancient temples, which depict the opulence of the graceful Chola style of architecture. Lord Vinayaka Temple gets the first mention since its 'Vinayaka Chaturthi' festival attracts thousands of devotees from all parts of the state.
Kailasakona Waterfalls
A little further from Nagari, Kailasakona is a spectacular waterfall with mineral rich and clear water. The water of the gorge is said to have curative properties. In its close proximity is a small temple dedicated to Lord Shiva and Goddess Parvati. Owing to its perennial and medicinal nature, the waterfall is visited by thousands of people throughout the year.
Mudipalli
Mudipalli is a small village near Nagari. It is famous for Naguteertham, which is a scared water pond. The amazing fact about this pond is that its water doesn't get evaporate by sun light. Due to this reason, this pond remains full of water even in the scorching summers. A temple of Lord Shiva and Nagaraja is also located nearby the pond.
Madanapalle
At an altitude of 710 meters, Madanapalle is a popular health resort that enjoys pleasant climate throughout the year. Its popularity also lies in the fact that it acts as the gateway to Horsley Hills. Amidst natural beauty, Madanapalle is a nice place to spend some moments in solitude. You can also purchase silk saris at factory costs in Neeruguttu Palle, a famous market.
Gurramkonda
About 32 km from Madanapalle, Gurramkonda is a historic hill that is often confused with Horsley Hills, since in Telugu 'Gurram' means 'Horse' and 'Konda' suggests 'Hill'. On its top, there is a fort, which offers a picturesque view of the town below. Rangini Mahal that had been the headquarters of Tipu Sultan is also located here.
Sompalle
Sompalle is a beautiful place about 50 km from Madanapalle. It had been an important region during the Vijayanagar period. A temple representing the elegant architecture is sited in the expanse of town. Other shrines in its proximity boast of excellent rock carvings and monolithic pillars. Here, you can also see Kalyana Mandapam - a huge hall carved out of stone.
Puttur
Near Chittoor, Puttur is a small village that is renowned for its bone setters. The amazing ability of these bone setters can bewilder anyone, since they can set any type of fracture by using herbs and indigenous plaster. Puttur Railway Station is the very first railway station of Andhra Pradesh. Kalayana Venkateswara Temple is famous temple near the village, dedicated to Lord Balaji.