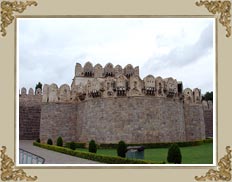 Golconda Fort is a standing testimony to the 500 years of the glorious past of Hyderabad. This imposing structure was constructed in the 16th century by various Qutub Shahi kings. Located at a distance of 11 km to the west of the city, the fort stands perched on a 120 meter high granite hill. In the earlier times, Golconda Fort was renowned for its diamond mines. The colossal fort stands surrounded by the hills, which further add to its mysterious appeal and grandeur.
It is believed Golkunda Fort was erected out of mud by Kakatiya rulers in the 12th century. Later in the 16th century, Qutub Shahi rulers took the initiative to transform the mud structure into a granite wonder. Golconda Fort actually embraces small four forts in it. Elevated to the height of 120 meters, the Fort has a fortification of 10 kilometers. It is accessible through all of its eight 'darwazas' (gates), though Fateh Darwaza (Victory Gate) is the major one.
Golconda Fort still has royal living chambers, halls, temples, mosques, stables etc. Victory Gate is known for its acoustic effects that is a notable feature of the fort. Such articulate style of construction is certainly a commendable job to be done by the architects of those times. The entrance from the Victory Gate has huge iron spikes that were installed to prevent elephants during the wars. Bala Hissar Gate is another gate that is embellished with scrollwork and carvings.
Unfortunately, the spectacular Golconda Fort lost its entire grandeur and gleam when the Mughals attacked and ransacked this wonder. Owing to the tourist influx in Andhra Pradesh, Golconda Fort has been restored with its parks and illumination. Nowadays, a Light and Sound show, narrating its chronicle, allures people to this gigantic fort. Golconda Fort is undoubtedly an architectural wonder that must not be missed on your trip to Andhra Pradesh.