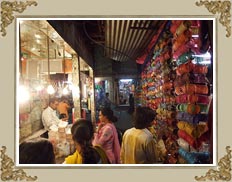 As and when one talks about Hyderabad, the foremost thing that comes to mind is shopping. Since the 'Pearl City of India' is known world-wide for its gleaming curios, travelers especially focus on the markets and places that can be browsed for shopping. Not only jewelry, Hyderabad also has all the famous stuff of Andhra Pradesh. Whether it is jewelry or clothing, handicrafts or metal crafts, bags or shoes, paintings or toys, the city has each and every charm to engage people from all age groups.
Basheerbagh, Abids and Nampally come under the list of the major shopping places in Hyderabad. Begum Bazaar is the favorite destination for brassware, whereas Laad Bazaar is known for its quality diamonds, pearls, bangles and precious stones. Being the largest market of Hyderabad, Begum Bazaar gets the major attention. Sultan Bazaar and Mahatma Gandhi Road are other places for shoppers. Besides these markets, you can also scroll through markets of Ameerpet, Himayatnagar, Begumpet, Somajiguda and Punjagutta.
Above and beyond these shopping places, there are many shopping malls offering innumerable brands. In case you are thinking what to buy, then you need not think because there are ample of things to shop for in Hyderabad. Check out the Kalamkari Work, Handloom Fabrics, Kondapalli Toys, Lacquered Bangles, Bidri Metal Craft, Nirmal Art and Banjara Mirror-work, besides the ever appealing jewelry of Hyderabad. Apart from these things, look out for the handlooms to find exquisite sarees, suits, cushion covers, bags, shirts, kurtas, bedspreads, etc.
'Zardozi' embroidery work, which employs gold and silver thread, is the specialty of Hyderabad. The city is the best place to buy pearls that are usually studded in lustrous silver and gold ornaments. Silver ornaments are great curios that can serve as souvenir of the city. You can also purchase silver key chains, small boxes, trays, etc to gift your dear ones. For the assistance of tourists, the government has opened a showroom by the name of 'Gnaptika', where you can find any and every thing under one roof.