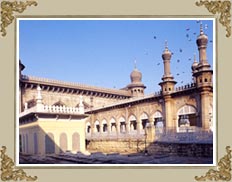 Mecca Masjid is one of the oldest and biggest mosques of not only Anhdra Pradesh, but the whole of India. In the year 1617, Mohammad Quli Qutub Shah started the construction of the mosque, whereas it was completed by the Mughal Emperor Aurangzeb in 1694. Situated near Charminar, it was built under the supervision of various rulers in the 17th century. It took around 77 laborious years and workforce of 8,000 laborers to complete this huge mosque.
Mecca Mosque is positioned at a distance of 100 yards to the southwest of Charminar. It is said that the mosque had its foundation laid with the bricks brought from Mecca. Perhaps this is the justification for its name. At the time of laying the foundation stone of the masjid, people from all over the city were called. It was sais that the foundation stone will be laid by the person who had never missed his prayers. Nobody came frontward, thus Sultan Muhammad laid the foundation since he had never missed any prayer from the age of 12.
In the Mecca Masjid, the prayer hall reaches the height of 75 feet, width of 220 feet and length of 180 feet. It has two octagonal columns on each side, carved out of a single piece of granite. No less than 15 arches support the prayer hall, whereas each of the three walls embraces the five arches. There is a large pool in the courtyard that has slab seats on its sides. It is believed that any visitor, who sits on these seats, will certainly come back to Hyderabad.
The mosque also embraces sacred relics and out of them, one is the hair of Prophet Muhammad. Mecca Masjid is a heritage monument and to protect this structure from pollution, the State Government has made this area a Traffic Free Zone in 2001. Mecca Mosque is the oldest and the biggest mosque in Hyderabad and it can accommodate 10,000 people at a time. This mosque undeniably has a charisma that attracts people from everywhere.