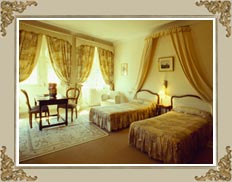 Hyderabad is truly called the 'City of Nawabs', since the conurbation has a royal charm of its own. Perhaps Hyderabad is the most beautiful and developed cities of Andhra Pradesh. In case you are planning to visit this wonderful city and have no idea about the accommodation, don't worry because there are numerous places to stay here. Ranging from heritage hotels to luxurious hotels, business hotels to world-class resorts and budget hotels to guest houses, Hyderabad has accommodations to suit every budget and requirements.
Being a major IT Hub of India, the city is always thronged by people visiting it for commercial reasons. Considering the situation, Hyderabad has many business hotels that offer suites for executive class. These hotels have all the world-class facilities like conference rooms, party halls, banquet halls, etc. Along with the business hotels, there are many luxurious and heritage hotels in the city that comprise of top-notch facilities and assure the provision of finest services to their guests.
Besides luxurious hotels, there are many guest houses and budget hotels, which tender pretty good services at affordable rates. Apart from the hotels, the city has many resorts that claim nice ambiance, along with excellent services. The interesting fact about these accommodations is that all these hotels are located at convenient places, to keep their guests at ease while traveling. So come to Hyderabad and see for yourself, the flawless services provided by the resorts and hotels of the city.
Luxury Hotels
Kakatiya Sheraton and Towers (5 Star)
Taj Krishna (5 Star)
Tulip Manohar Hotel (5 Star)
Taj Banjara Hotel (5 Star)
Taj Residency (5 Star)
Hotel Green Park (4 Star)
Hotel Amrutha Castle (4 Star)
Hotel Golkonda (3 Star)
The Central Court Hotel (3 Star)
Quality Inn Residency Hotel (3 Star)
Budget Hotels
Aditya Deluxe Hotel
Aditya Park Inn
Aghai Hotel
Begumpet Palace
Belman Hotel
Bottles and Chimney
Brindavan Resorts
City Light Hotel
City Park Hotel
Class Apart, Banjara Hills
Club View Hotel
Comfort Inn City Park Hotel
Resorts
Dhola Ri Dhani
Dodsal Hotels and Resorts
Emmanuel Resorts
Family World
Fateh Maidan Club
Garden Retreat Resorts
Golkonda Resorts and Spa
Hola-Ri-Dhani
IES Clubs and Resorts