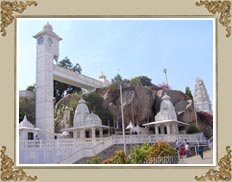 Birla Mandir is a structural wonder that dominates the skyline of Hyderabad. It is a fine specimen of man-made marvel, dedicated to the spiritual powers of Lord Venkateshwara. Perched on the Kala Pahad (Black Hill), the temple offers a panoramic view of the twin cities of Andhra Pradesh. Birla Temple was built by Birla Group of Industries, one of the largest business houses of India. Hussain Lake, being in the forefront, adds to the stunning beauty of the temple.
Established in 1976, the marvelous edifice took about ten years to complete. The sanctum sanctorum is accessible by a flight of steps. Along the oblique path, you can see many marble figures of Gods and Goddesses from the Hindu Mythology. In the temple, one can trace the ceilings adorned with intricate art work and beautifully carved structures on the walls. Most of the scenes were illustrated from the great epics like Ramayana and Mahabharata.
The elaborate and intricate artwork is a proof to the sculptural excellence and craftsmanship of the artisans. The construction of the temple is a neat fusion of Orissan and South Indian temple architecture. At the very entrance, the 'Rajagopuram' stands majestically, reflecting the South Indian architectural style. In the sanctum sanctorum, the magnificent idol of Lord Venkateshwara looks stunning with its astounding height of 11 feet. This shrine is flanked by two other shrines of Padmavati and Andal, the consorts of Lord Venkateshwara.
'Jagadananda Vimanam' is the tower that lies over the main shrine of the Lord. This tower is built in Orissan style, whereas the towers above the shrines of the consorts have been erected in the South Indian architectural style. The flagpole of the Birla Mandir has crafted out of brass and elongates to an overwhelming height of 42 feet. If you are visiting this temple in the early morning, you might hear the melodic South Indian music eulogizing the Lord. Birla Mandir looks startlingly beautiful, especially in the evening when it gets illuminated.