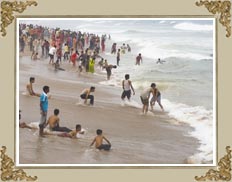 Cornucopia of water along with frothy waves soothes the mind to the core. It is said that our mind stops calculating before the ocean. The profound waters of the sea offer a sense of contentment, a feeling that makes us realize - we are too small to be in charge of everything and certainly there is some celestial power to command each and every thing. Beaches are the best place to feel aforesaid pleasure and bliss.
Andhra Pradesh has the distinction of embracing the second largest coastline in India. This shoreline of at least 970 kms is dotted with numerous beautiful and peaceful beaches. The best part is that you can find beaches ranging from isolated ones to crowded ones. If you want to spend some time in solitude, you can try out the former ones otherwise be a sport on the later ones, where you can engage into various leisure activities. Check out the famous beach of Andhra Pradesh.
Ramakrishna Beach
Ramakrishna Beach is the most popular beach of Visakhapatnam. With its serene waters and tranquil atmosphere, the beach offers a lovely vista of the countryside. In the past few years, it has gained immense popularity amongst the tourists.
Rishikonda Beach
Away from the hustle and bustle of city life, Rishikonda Beach is the perfect destination for people on a holiday. The untouched sandy stretches and warm waves of the ocean make this beach definitely worth-visiting. Sited at a comfortable distance of 8 km from Visakhapatnam, Rishikonda is one amongst the best beaches of Andhra Pradesh.
Bheemunipatnam Beach
Bheemunipatnam Beach is a peaceful and serene beach, situated along the coastline of Andhra Pradesh. Amidst the blue waters and tall coconut trees, this beach appears to be the perfect site for honeymooners. The sparkling sands that get soaked by the warm waves revive the childhood days.
Manginapudi Beach
Manginapudi Beach revives the times of the yore, when its port used to serve as a gateway of India. Located near Machilipatnam, this spectacular beach falls along the coastline of Andhra Pradesh. Apart from its natural splendor, the coast also has historical significance.
Mypad Beach
With a picturesque coastline, Mypad Beach has serene landscape that never fails to impress its visitors. The aesthetic appeal in its beauty differentiates this tranquil seashore from the other beaches, where water sports have plasticized the countryside.