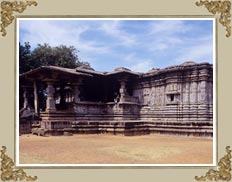 Warangal is a city in the Telangana region of Andhra Pradesh. Acclaimed as the fourth largest city of the state, Warangal is located about 120 km to the north-east of Hyderabad. Warangal is believed to have been discovered in the 12th century, by Prola Raja of the Kakatiya dynasty of India. Once, the capital of Kakatiya dynasty, the city is today serving as the headquarters of the Warangal district. This city has been mentioned by a number of names in various legends and epics.
Earlier it was known as Orugallu, where 'Oru' suggests one and 'Kallu' suggests stone. The idea behind such name was that in the vicinity of the city, there was a huge rock. Perhaps the word 'tourism' is not often used for Warangal, yet the remnants of the erstwhile kingdom are getting recognized. People travel to this city to have a glimpse of the heritage structures erected by the Kakatiyas. The capital city of the Kakatiyas has also been referred in the travel journals of Marco Polo for its cultural richness.
Warangal has preserved the art and architecture of the medieval period in the form of imposing forts, massive stone-gateways, picturesque lakes, striking temples and exotic wildlife. The city has adapted modern conveniences but not on the cost of its legacy. The lakes and greenery add to the splendor of the historical sites. In concise, Warangal has got each and every feature to compliment it as the perfect tourist destination.