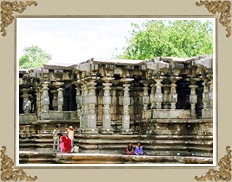 Thousand Pillar Temple, as the name suggests, has no less than thousand pillars. To be found near the Warangal-Hanumakonda Highway, this temple was built by the Kakatiya ruler, Rudradeva, in 1163 AD. Raised on a platform, this temple is about 10 km from the Warangal city of Andhra Pradesh. Thousand Pillar Temple presents a picturesque sight to behold and admire. An interesting fact about this temple is that it is designed in the shape of a star.
It is a brilliant example of Kakatiya style of architecture. Its thousand intricately carved pillars, perforated screens, wonderful icons and rock-cut elephants are worth-seeing. Not to be missed is the monolithic statue of Nandi that certainly reminds the rich taste of the rulers. The colossal structure of Nandi is carved out of a single piece of black basalt. Inside the majestic temple, there are three shrines dedicated to Lord Shiva, Vishnu and Surya respectively.
Thousand Pillar Temple, with its own unique architectural style, is indeed the pride of India. The temple complex has lush green gardens, which attract everyone with their serenity. The ambiance is full of quietude and tranquility, tempting one to sit and experience the divine. The reverberation of bells, chirping of birds and gentle breeze further add to the celestial atmosphere. In short, this temple of thousand pillars is worth-visiting at least once.