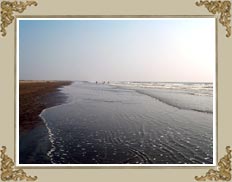 Manginapudi Beach revives the times of the yore, when its port used to serve as a gateway of India. Located near Machilipatnam, this spectacular beach falls along the coastline of Andhra Pradesh. Apart from its natural splendor, the coast also has historical significance. Its natural bay, with moderately shallow and safe waters, boasts of being one of the safest beaches for water sports. Unlike other beaches, Manginapudi Beach has black soil instead of sands.
A little away from the seashore, a park has been established here, that has fountains and well-lit surroundings. Manginapudi Beach is a wonderful place to relax, far from the turmoil of city life. At the time of Kartika Poornima, thousands of devotees take a holy dip in the sea every year. Manginapudi Beach also boasts of a full fledged dance school, which offers courses to instruct students in the Kuchipudi dance.
On the banks of the sea coast, Dattashram is an ancient pilgrimage site comprising a temple of Lord Shiva. Owing to the sanctification of 9 wells of bath, like Rameswaram, Manginapudi is also known as 'Datta Rameswaram'. An old lighthouse on a sea cliff, being a unique construction, also attracts visitors. Away from the hustle and bustle, Manginapudi Beach is just perfect to spend some time in solitude amidst natural beauty.