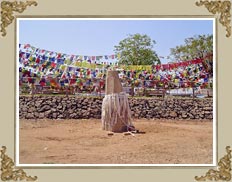 Sited on the banks of River Krishna, Amravati is a sacred place known for Amareswara Temple. The town has been mentioned in the Indian epics as Dhanyakataka and Andhranagari. Located about 66 km to the south of Vijayawada, Amaravati is an excavation site of an earliest Buddhist Stupa. It is one amongst the important Buddhist sites in India. With such places of religious and historical significance, Amravati is a major centre of pilgrimage and tourism.
During the 2nd and 3rd centuries, the town had been the capital of Satavahanas - the first of Andhra kings. Some interesting facts about the piousness of Amareswaram are: it is located on the banks of Krishna River, it is the region of 'Sthalamahatyam' and it has Sri Mahalinga Murthy. A trip to Andhra Pradesh would certainly be incomplete without undergoing travel to Amaravati, since the place boasts of interesting ancient attractions.
Amareswara Temple
As per the Hindu mythology, Amareswara Temple is dedicated to Lord Shiva, the 'Destroyer of the Universe'. The shrine embraces a 15 ft high marble Shiva lingam. It is believed that Lord Siva is present here in the form of five lingams -Pranaveswara, Agasteswara, Kosaleswara, Someswara and Parthiveswara. Built in the Dravidian style of architecture, Amareswara Temple has many legends behind its origin.
Another interesting fact about the shrine is that it is located at the point where the river takes a different course. Since slabs with Buddhist inscriptions were found in its groundwork, the temple is said to have been a Buddhist shrine in the previous times. 'Maha Shivaratri' of 'Magha Bahula Dasami' is the major festival celebrated here. The divine aura of the shrine attracts thousands of pilgrims every year.
Mahachaitya
Built around the 2nd century, Amravati Mahachaitya (The Great Stupa) must have been the largest stupa in the whole country. It is believed to have been constructed with the efforts of the great saint, Acharya Nagarjuna. Excavated a few years back, this stupa is engraved with intricate carvings that depict the life and teachings of Lord Buddha. Here is a small museum, which houses numerous artifacts and terracotta antiquities.