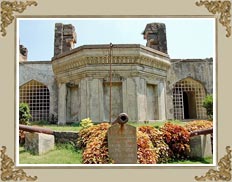 Vijayawada is enchanting with its ancient temples and new developments. It is definitely the place for you want to spend quality time amidst the city of hoary charms. To keep you engaged in its exotic beauty, Vijayawada has many tourist places near its boundaries. It seems that this temple town has spread its divine aura in the suburbs too. Though modern facilities have touched these places, they have kept their traditional values intact. Scroll down to get more information about Vijaywada excursions.
Amravati
Sited on the banks of River Krishna, Amravati is a sacred place known for Amareswara Temple. The town has been mentioned in the Indian epics as Dhanyakataka and Andhranagari. Located about 66 km to the south of Vijayawada, Amaravati is an excavation site of an earliest Buddhist Stupa.
Manginapudi Beach
Manginapudi Beach revives the times of the yore, when its port used to serve as a gateway of India. Located near Machilipatnam, this spectacular beach falls along the coastline of Andhra Pradesh. Apart from its natural splendor, the coast also has historical significance.
Kuchipudi
Located at a distance of 60 km from Vijayawada, Kuchipudi is the same place after which the State's dance has been named. Kuchipudi, being the hometown of Siddhendra Yogi (instigator of Kuchipudi dance), is known for its artistic and literary pursuits. In the present day, a full-fledged dance school is still reviving the memories of the great artiste.
Gudivada
Also known as 'Vidarbhapuri', Gudivada is prominent for its historical temples. This place is believed to have been existed for over 2000 years, though it was popularized during the time of the Satavahanas. Sited about 45 km from Vijayawada, Gudivada was named after the numerous temples it had. The site has got ruins of age-old temples and is worth-visiting.
Mogalrajapuram Caves
Located at a distance of 5 km from Vijayawada, Mogalrajapuram Caves actually are three cave temples that date back to the 5th century. Though in ruins, these caves present a wonderful sight. The fresco of Ardhanareeshwara found here, is said to be an exclusive one in South India. Other deities depicted are Lord Nataraja and Lord Vinayaka.
Mangalagiri
Known for Lord Lakshmi Narasimha Swamy Temple, Mangalagiri is a small town about 12 km from Vijaywada. The rock-cut shrine is dedicated to Lord Narasimha, who is also referred as Panakala Narasimha. The reason behind the name 'Pankala' is that the Lord is offered 'Panaka', a dish made of jaggery. It is a very old temple and various eminent personalities are believed to have visited this shrine. An interesting fact about the temple is that you can trace no fly or ant in its premises though mounds of jaggery and sweets are stored inside.
Kondapalli
Kondapalli is a small village, situated at a distance of 16 km from Vijayawada. This hamlet has the distinction of making amazing toys out of the light-weight wood. With their interesting color scheme and designs, Kondapalli toys are popular in both national and international markets. Besides wooden toys, the village is also known for embracing a fort, dating back to the 7th century. Perched on a hill, Kondapalli Fort was built by King Krishna Deva Raya. It still reminds one of the days of the royalty, with its notable three storeyed rock tower.
Chandavaram
Chandavaram, an important Buddhist site, is located about 50 km from Vijayawada. The highlight of the place is formed by a remarkable double terraced stupa, which is to be found on the top of Singarakonda Hill. There are no less than 30 carved limestone panels that were excavated and once had been the grace of domes, drums and railings of Stupa. Chaityagrihas, Viharas and numerous minor stupas are other attractions on the hill.