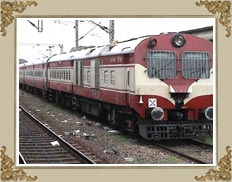 Vijayawada is a bustling city that never sleeps. Embracing the largest railway junction of the South Central Railway, the city acts as an important link between the three regions of Andhra Pradesh. Infact, it is a major transit point for trains and vehicles plying between the northern and the southern part of India. The National Highway No. 5 and No. 9 move across the city, connecting it with all parts of the country. Vijaywada boasts of a well planned network of local roads and is linked with other parts of the state by district roads and state highways. In case you are traveling to Vijayawada, check out how to reach there.
By Air
Vijayawada has its own airport at Gannavaram, which is about 20 km from the city. It is connected by regular flights with Hyderabad and Visakhapatnam. From Hyderabad, the flight takes 30 minutes (approx) to reach Vijaywada. The other major airport is sited at Hyderabad that is connected with all the major national cities and few international cities.
By Rail
Reaching Vijaywada by rail is easy since it has a vast network of railways. It is well-connected, by numerous express and super fast trains, with all the major cities of India. Sited next to Chennai-Howrah and Chennai-Delhi Rail Route, Vijayawada is the largest railway junction connecting the northern and southern parts of the country.
By Road
All parts of the country are connected with Vijaywada by National Highway No. 5 and No. 9 that traverse through the city. It has a good network of district roads and state highways, which connect the city with all parts of Andhra Pradesh. Numerous APSRTC buses run between Vijayawada and other major cities within and outside the state.