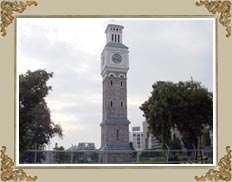 Acknowledged as the twin-city of Hyderabad, Secunderabad is a place full of royal charm and modern pleasures. Hussain Sagar, a man-made lake, separates these two regal cities of Andhra Pradesh. Established in the 18th century as a British cantonment, Secunderabad was tagged after the third Nizam of the Asaf Jahi dynasty - Sikandar Jah. Along with Hyderabad, this city is also coming up on the panorama of tourism.
Secunderabad doesn't have any major tourist attraction, but this city is known for its tranquil and serene atmosphere. Rashtrapati Nilayam, Trimulgherry Fort and Trinity Church are some of the places, where one can go and spend some moments in solitude. The city has really lavish restaurants, which serve delectable cuisines in the royal style of 'Nawabs'. Apart from the restaurants, you can take liquid pleasures at the top-notch bars too.
The imperial city of Secunderabad is renowned for its glistening pearls and shopping for jewelry has always been the most gripping activity for the ladies visiting it. Without any delay, check out Sardar Patel Road and Mahatma Gandhi Road to bargain the best deals for those interesting knick-knacks. In concise terms, Secunderabad has a splendid appeal of its own that captures the interest of everyone, with one or the other reason.