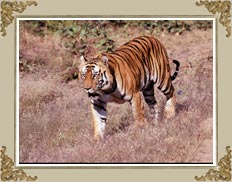 Kawal Wildlife Sanctuary is the prefect destination to look for multiplicity of flora and fauna in India. Located in Adilabad district of Andhra Pradesh, the sanctuary lies at a distance of 50 km from Mancherila and 260 km from Hyderabad. It was established in 1964 with the purpose of safeguarding the endangered species in their natural habitat. Owing to its bio-diversity, the haven was declared as a wildlife sanctuary later.
Kawal Wildlife Sanctuary is visited by number of tourists every year. It has two watch towers, which offer stunning view of the surroundings. Sprawled across an area of 893 sq kms, the sanctuary boasts of a dry deciduous forest where teak, bamboo and numerous varieties of trees, shrubs and herbs can be seen. It houses various animals, including Sambar, Cheetal, Nilgai, Barking Deer, Indian Bison, Sloth Bear, Panther and Tiger.
The range of reptiles comprises of Python, Crocodile, Star Tortoise, Monitor Lizard, Cobra and many others. Talking about avifauna, one can trace various species of birds like Partridge, Quails, Peacocks, Eagles, Kites, Owls, Mynahs and Kingfishers here. During winters, the chirping sound of the migratory birds reverberates in the region. If you are keen on watching animals and birds, you can wait near rivulets and brooks where they usually come for water.
Winter season offers the best time to visit the sanctuary because the weather gets too dry in summers and too humid in monsoons. You can also opt for jeep safari, while having a closer, yet safer, view of the wildlife, to make your trip more interesting. Accommodation is also available here with the Forest Guest House. In concise, Kawal Wildlife Sanctuary is a nice place to experience adventure and thrill, mingled with enjoyment.