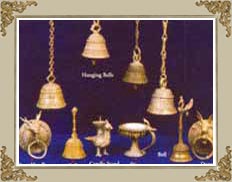 Adilabad, the city of cotton, finds its excellence in natural beauty. Perhaps this splendor drives the creative instinct of the area-dwellers to produce beautiful handicrafts. Infact, the arts and crafts of Adilabad district have brought the county on the Map of Indian handicrafts. Be it miniature paintings or interesting wooden toys, antiques or eco-friendly friendly curios, the district boasts of numerous arts & crafts. Nirmal, a town that is synonymous for spectacularly beautiful paintings, range of handicrafts and wooden toys, is to be found in Adilabad district of India. Ushagham is another remote village in the expanse that made its mark with Dokhra handicrafts. This is actually an ancient art form originated by the tribals of the village.
Nirmal Handicrafts
Nirmal town is known for its amazing paintings, exclusive handicrafts and wooden toys. The distinction held so high that the curios were named after the town itself. The artisans still follow the conventional methods and techniques to create splendid art works. In case of paintings, 'Nakkash' has been the main community, which has contributed to the art and painted brilliant scenes from the Hindu epics like the Mahabharata and the Ramayana.
In the primeval period, Mughal rulers got really fascinated about these paintings. Later, Lady Hydri brought the painters to Hyderabad and endorsed this art for development. Till date, the colors employed in this painting are formed form minerals, gums and herbs. With changing patterns, the craftsmen are painting different themes and motifs too. Mughal miniatures are reproduced skillfully on soft white wood, known as 'Ponniki', by the dexterous artisans.
Acknowledged as the land of toys, Nirmal also leads in the manufacture of really good wooden toys. The interesting fact is that in the earlier times, the art form developed with locally available material. Apart from toys, you can also see a range of curios like bangles, jewelry boxes, decorative pieces, etc. The indigenous art of Nirmal developed considering the modern taste, but never compromised on the traditional methods.
Dokhra Handicrafts
Dokhra handicrafts are known for their exclusive designing. Initiated by the tribals of Ushagham village, the handicrafts are produced with the help of metal. The process involves hot molten metal, which is further shaped to produce attractive things. Usually the craftsmen create replicas of animals & birds and figures of Gods & Goddesses.