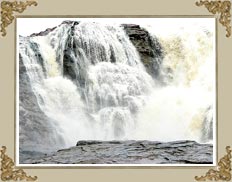 Adilabad is bestowed with the treasure of beauty by nature. The city abounds in both, mesmerizing beauty and prehistoric sites. After touring the city, most of the people look for some more places to spend further time in its tranquil atmosphere. There are many tourist places near Adilabad that can make enjoyable excursions for you. Be it temples or prehistoric sites, waterfalls or wildlife sanctuaries, arts or crafts, the city has many added attractions to make your trip an exciting one. Check out the following links to know about tourist places near Adilabad.
Saraswati Temple
Basara, abode to Gnana Saraswati, is a small village near Nizamabad city that comes under Adilabad district of Andhra Pradesh. Here is located the ancient temple of Gnana Sarasvati - the Goddess of Knowledge.
Kuntala Waterfall
Kuntala Waterfall, set amidst the Sahayadri mountain range in Andhra Pradesh, presents a wonderful vista with its gushing waters. Identified as the highest waterfalls of the state, the cascade attracts visitors from far and wide.
Kawal Wildlife Sanctuary
Kawal Wildlife Sanctuary is the prefect destination to look out multiplicity of flora and fauna in India. Located in Adilabad district of Andhra Pradesh, the sanctuary is situated at a distance of 50 kms from Mancherila and 260 kms from Hyderabad.
Shivaram Wildlife Sanctuary
Shivaram Wildlife Sanctuary of Andhra Pradesh is a total delight for nature lovers. Sited on the banks of River Godavari, the sanctuary is known for its population of fresh water crocodiles.
Pranahita Wildlife Sanctuary
In the vein of Kawal and Shivaram wildlife sanctuaries, Pranahita Wildlife Sanctuary is another place that is famous for dry deciduous forests. It has derived its name from Pranahita River, which flows through its expanse. The sanctuary falls under the Chinnur-Mancherial forest division in Adilabad district.
Pochera Waterfalls
Pochera Waterfalls presents a striking vista with gushing waters of Godavari River. Sited near National Highway No. 7, the cascade lies about 50 kms from Adilabad. The place attracts numerous tourists and visitors throughout the year. During winters, the falls becomes all more attractive with heavy waters.
Jainath Temple
Jainath is a small township, lying at a distance of 21kms from Adilabad city. The place is famous for Jainath Temple, an ancient temple built by Pallava chiefs. Being a striking specimen of Jain style of architecture, it attracts tourists from all parts of the world.
Somalingeswara Swami Temple
This ancient temple is dedicated to Lord Someshwara and Lord Nandishwara. To be found near Kuntala village, the temple is renowned for its exquisite sculptures. Somalingeswara Swami Temple is visited by thousands of tourists and devotees every year.
Nagoba Temple
Dedicated to Sheshanag (The Serpent God), Nagoba Temple is a unique shrine in the whole world. It is located in Keslapur, which is about 32 Kms from Adilabad. During the month of Pushya (December-January), the temple attracts a large number of devotees from within and outside the state.
Nirmal
To be found aside National Highway No.7, Nirmal is a small town known for its paintings, toys and handicrafts. It produces some of the best miniature paintings and toys of the country. Apart from its handicrafts, the place is also eminent for prehistoric forts that were built during the reign of different rulers.
Other Places
Basar is a small village, which is renowned for housing one of the two ancient temples of Goddess Saraswati in India. If you are looking for some sport, then you can move towards enthralling waterfalls like Kuntala and Pochera. For the lovers of flora and fauna, the wildlife sanctuaries in the region offer the best deals. Nirmal is another great place, where you can see the ethnic paintings, curios and handicrafts.