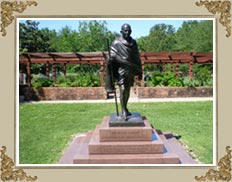 Adilabad is a historic land in Andhra Pradesh that has been ruled by different dynasties for centuries. In the company of rivers and forests, this place appears to be a perfect tourist destination nestled in the lap of nature. The ever-beguiling beauty of the city attracts people from all parts of India. Though there are not much places within the city, yet the natural beauty of the place will definitely keep you engrossed in its charm. In case you are touring Adilabad, it would be better to know beforehand what all sightseeing tours of the city offer. Scroll down to know about the places to see on a tour to Adilabad.
Mahatma Gandhi Park
Located in the heart of 'cotton city', Mahatma Gandhi Park is an ideal place for meditation. The park has a tint of serenity. Its green lawns, exotic variety of plants and trees make it a nice spot to spend evenings. For children, it has a special playing section, where they can play and can have fun.
St. Joseph's Church
St. Joseph's Church is known as one amongst the best churches in Andhra Pradesh. It is a tranquil place, where you can actually experience the presence of the divine. Lush gardens make the forefront of this church, beautifying the whole vista. It attracts people from all nooks and corners of the region.