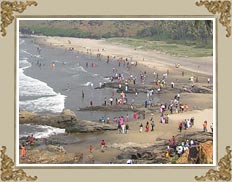 Visakhapatnam is always delightful with its sandy beaches and natural beauty. Though the city has been heavily industrialized, it has kept its charm alive through the blue waters and coconut trees. On your tour to Vizag, you will find so many places that are worth-seeing. Varying from Buddhist excavation sites to primeval temples, golden beaches to green forests, interesting museums to vantage points, this city has ample of places to make your trip really good one. So making your itinerary for sightseeing tours, the tourist attractions of Vishakapatnam have been jotted down here.
Ramakrishna Beach
Ramakrishna Beach is the most popular beach of Visakhapatnam. With its serene waters and tranquil atmosphere, the beach offers a lovely vista of the countryside. In the past few years, it has gained immense popularity amongst the tourists.
Rishikonda Beach
Away from the hustle and bustle of city life, Rishikonda Beach is the perfect destination for people on a holiday. The untouched sandy stretches and warm waves of the ocean make this beach definitely worth-visiting.
Indira Gandhi Zoological Park
Indira Gandhi Zoological Park is one amongst the largest zoos of India, sited in the natural surroundings of a reserve forest. Sprawled in an area of 625 acres, the park was named after Indira Gandhi - the former Prime Minister of India. It was opened to the public in the year 1977.
Kailasagiri
Perhaps Kailasagiri is the most beautiful places in the expanse of Vizag. Perched on a hilltop, it is an interesting place that certainly looks like the abode of God. It also offers spectacular view of both Rishikonda and Ramakrishna Beach. Actually a hill park, Kailasagiri boasts of numerous attractions like Shiva Parvati Statue, Shanku Chakra Naama, Floral Clock, Jungle Trails, Food Courts, 7 Wonders of Vizag, Shiva Temple, Titanic View Point, Shanti Ashram, View Points, Art Gallery, Road Train, Gliding Base Point, Children Play Park, Conference Hall, Telescopic Point etc. Over and above, the pleasant atmosphere and scenic beauty make this place worth-visiting.
Dolphin's Nose
Indeed Dolphin's Nose is the famous landmark in Visakhapatnam. With a height of 357 meters, the landmark is a rock in the shape of a Dolphin's nose. It's a promontory and also has a lighthouse, which is conceivably the oldest lighthouse in India. Another interesting point about this lighthouse is that its beam can be seen from even 64 km out at sea.
Mudasarlova Water Works and Park
About 10 km from Vishakhapatnam, Mudasarlova Park is actually sited in a valley encircled by hills. The attraction of the place is made by a lake that supplies water to the park, where slides and sports are attracting tourists and city-dwellers. It also has a Golf Course, which is owned by the East Point Golf Club.
The Harbour & the Three Hills
Vishakhapatnam boasts of embracing the natural harbour of the country. Dotted with trees and hills, this harbour is one of the most beautiful harbors in the world. In the company of three hills, it presents a wonderful vista. Another interesting fact is that each hill has one place of worship, dedicated to three major religions in the world. In the north, Dargah Konda comprises a mosque, while Venkateshwara Konda in the south has a temple of Lord Venkateshwara. Roman Catholic Church of Mother Mary founds its place on the Ross Hill. Amidst these hills, there is a jungle trail, meandering over three acres of dense forest. It's a nice place to go for trekking.
Submarine Museum
Submarine Museum is a nice place to feel real-life experience at submarines. It is the only museum in India as well as the Asia to build a submarine. Actually, the museum has been crafted out of a real submarine of Indian Navy. Here, you can get to know about the working inside the submarine.
Jagadamba Center
Jagadamba Center / Junction is a downtown place, which can be said the gist of entertainment in Vizag. Here, you can have leisure-time and even have a glimpse of the crowd. It has both local shopping centers and famous malls, from where you can shop the artifacts and accessories on top. It is named after the Jagadamba movie theatre, which is one of the best movie auditoriums of India.
War Memorial
To be found opposite Submarine Museum on the Beach Road, War Memorial was built to commemorate the victory at the sea in the Indo-Pak war of 1971. The Naval Museum established here exhibits a fighter plane, a tank and few missiles.
Matsyadarshini
Aquarium Sited near R.K Beach, Matsyadarshini Aquarium has a nice collection of marine fishes and freshwater fishes. Its, out of the ordinary, façade has an entrance doorway, which resembles the open mouth of a giant white-tipped shark. 'Kala Shrusti' is a handicraft shop located on the top of building.
Bavikonda
Dating back to the 2nd-3rd century, Bavikonda is a Buddhist excavated site. A drive of about 8 km from the city would bring you to this place, situated along the beach road. In the earlier times, the wells at the hill were used to collect rainwater for drinking purposes. Pottery, Roman coins and Satavahana coins were some of the artifacts found here. Further excavations revealed various stupas, monasteries, platforms, relic caskets, tiles, stuccos, iron objects, moulded bricks, coins, etc.
Mangamaripeta
Mangamaripeta, a small hamlet, is situated about 16 km from Visakhapatnam. It is known for Thotlakonda, a hill embracing a Buddhist complex. At an elevation of 128 meters above ground, this complex was discovered by an aerial survey conducted by the Indian Navy. Dating back to 200 BC and 200 AD, Thotlakonda was under the sway of Kalingas and used to serve as the promotional centre of Buddhism.