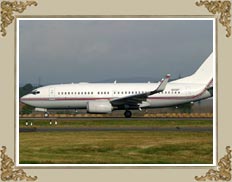 Tirupathi, the abode of Lord Venkateswara, is accessible by air, rail as well as road. Getting to the temple town is quite easy, since a well planned network of railways and roadways connects it with other parts of India. It is sited at a distance of 555 km, 140 km and 280 km from Hyderabad, Chennai and Bangalore, respectively. Tirupati boasts of its own airport and railway station, which are connected with major cities across the country. From the city, Tirumala Hill is connected by free shuttle bus services provided by T.T.D and A.P.S.R.T.C. If you are traveling to Tirupathi and don't know how to reach, scroll down to get more information about traveling to the temple town.
By Air
Located at Renigunta, about 15 km from the city, Tirupati Airport has regular flights to and from Hyderabad, Bangalore and Chennai. One can hire taxis from the airport for reaching Tirupathi. Another major airport situated near the holy city is sited at Chennai, which has international connections too.
By Rail
Tirupati Railway Station has direct trains to and from Bangalore, Mumbai, Delhi, Visakhapatnam, Chennai, Madurai, Puri and Hyderabad. Stations at Renigunta (15 km) and Gudur (100 km) also serve as the major connections across the country. From Hyderabad and Visakhapatnam, there are overnight trains for Tirupati.
By Road
Almost every town and city of Andhra Pradesh is connected with Tirupathi by regular bus services. The town is linked by road to Ahobolam (272 km), Bangalore (280 km), Horsley Hill (145 km), Hyderabad (555 km), Kalahasti (36 km), Lepakshi (379 km), Chennai (140 km), Srisailam (436 km), Vijayawada (380 km) and Renigunta (55 km). Taxis are available throughout Andhra Pradesh and neighboring states to reach Tirupathi.