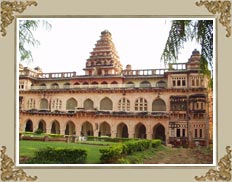 Tirupathi, the Land of Seven Hills, is always divine in the presence of Lord Venkateswara. It attracts millions of devotees and tourists round the year. Known for ample of temples, this holy place has many places to see. Apart from this, there are numerous interesting places in the close proximity that make nice excursions from Tirupati. Varying from historical sites to wildlife parks and primeval temples to natural affluence, you can glimpse several spectacular sights here, which would become part of your most cherished memories.
Sri Venkateswara National Park
Sri Venkateswara National Park is another attraction amidst the range of sanctuaries in India. Sited at a distance of 10 km from Tirupati, the park sprawls in an area of 353 sq km, over the Kadapa and Chittoor districts of Andhra Pradesh.
Chandragiri
Situated at a distance of 11 km from Tirupati, Chandragiri is a place of historical importance. At the peak time of Vijayanagar rulers, this place used to serve as the headquarters to the royalty. With an elevation of 182 meters, there is a fort that dates back to 1000 AD. Later, it was renovated by the Vijayanagar kings. This colossal fort has citadels, palaces and temples, which once had been the place of the royal family.
Kalahasti
Kalahasti is known for 'Panchaboothakshetra', a group of five wonderful temples. Located about 40 km from Tirupathi, this ancient site has marvelous shrines. 'Panchbhoota' suggests 'the five elements of nature' - Earth, Space, Wind, Fire and Water. Each element is represented by one temple. Kalahasti is definitely a place 'worth-visiting'.
Narayanavanam
Narayanavanam is a small village, about 43 km from Tirupati. This place is known for an ancient temple, where Lord Kalyana Venkateswara is the presiding deity. This is the same region where the divine wedding of Lord Venkateswara, with Goddess Padmavathi, took place.
Nagalapuram
To be found about 65 km from Tirupati, Nagalapuram is famous for embracing an ancient temple. Built by Krishnadeva and his mother Nagamba, this temple is dedicated to 'Lord Vedanarayana' - one of the incarnations of Lord Vishnu. The superb architecture of the temple boasts of phenomenal detail. On the day of 'Surya Puja', an annual festival, the sunrays fall on the feet, navel and forehead of the deity, as the day progresses.
Ramagiri
Ramagiri is a small hamlet, lying at a distance of 5 km from Nagalapuram. This 'picture-perfect' place has imposing mountains, where one temple is sited in the foothills and other at the top of the hill. Owing to the Kaalbhairava Temple, Ramagiri is also known as 'Bhairava'.
Suruttappalli
About 12 km from Nagalapuram, Suruttappalli is known for an ancient temple, sited on the banks of Arani River. Dedicated to Lord Siva, this temple is the only temple in the entire southern part of India that has deity in the human form. In the sanctum sanctorum, there are other deities too.