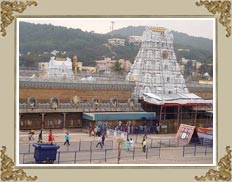 With the ceaseless blessings of the Almighty, Sri Venkateswara Temple continues to be the most visited shrine in the world. Not only most visited, it also claims the distinction of being the world's richest temple too. Tirupati Balaji Temple is perched on the Venkatachala or Ventaka Hill (the seventh peak of the Tirupati Hill) at Tirupati, which comes under the Chittoor district of Andhra Pradesh. Dedicated to Sri Venketeshwara, Tirupati Temple is the most sought after pilgrimage site of the Hindus.
Owing to the fact that Tirupati Hill has seven peaks, Shri Venkateswara is also called as the 'Lord of the Seven Hills'. He is considered as a form of Lord Vishnu, who is believed to be the 'Preserver of the Universe'. In the southern part, 'Venkateswara' is the popular term, while 'Balaji' is common name of the Lord in the northern parts of India. Millions of devotees get attracted by the divine aura of the shrine, where queues stretching to kilometers can be seen.
Tirupathi Balaji Temple has been held high in the ancient scriptures, like Shastras, Puranas and Sthala Mahatyams. In Kali Yuga or the Dark Age, it is believed that worship of Lord Venkateswara is the sole means to obtain salvation (mukti). Infact, Rig Veda and Asthadasa Puranas have suggested visiting this pilgrimage. As per the legends, Tirupati has been visited by great personalities including Ramanuja Acharya.
The kings of the dynasties like the Pallavas, the Cholas, the Pandyas and Vijayanagar kingdom are said to compete with one another in order to visit the shrine and offer donations. Following the philosophy of Vaishnavism, the temple observes equality, love and prohibits animal sacrifice. Even today, Sri Venkateswara Temple observes an array of rituals and sermons, which were recommended by Ramanuja Acharya in the 12th century.
Tirupathi Balaji Temple is the standing testimony of ages. Being a fine specimen of Dravidian style of architecture, the edifice has 'Gopuram' (tower) and gilded cupola (Vimana). In the enclosures, there are many statues of legends, including King Krishnadevraya and Todarmal (minister of Akbar). In the main sanctum sanctorum, the spectacularly beautiful idol of Sri Venkateswara / Balaji captures the attention of everyone.
Tirumala Tirupati Devasthanam (TTD) is the association that manages and the affairs at the temple. Ranging from accommodation to food, clealiness to shelters, & toilets to drinking water, TTD looks after the each and every concern at Tirupati Temple. Each day is a day of festivity and celebration here. At regular intervals, different pujas and darshans are conducted to keep the visitors at ease. 'Brahmotsavam' is the major festival observed here. In September, this nine-day festival attracts vast number of devotees and pilgrims from all parts of the world.