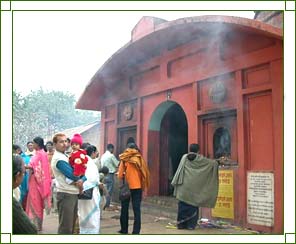 Located:
Chitrasal Hill (or Navagraha Hill), Guwahati
Built By:
Rajeswar Singh
Built In:
1800 AD
Highlights:
An astrological and astronomical center
As the name suggests, Navagraha Temple (or the temple of the nine celestial bodies), is a worship place devoted to the nine planets of the solar system, namely Surya (the sun), Chandra (the moon), Buddha (mercury), Mangala (mars), Brihaspati (Jupiter), Shukra (Venus), Shani (Saturn), Rahu (Dragon's head) and finally Ketu (Dragon's tail). Each of these nine planets is represented by a shivalingam located within the temple (which total to nine). The nine lingams are covered by colored clothes, each color representing a different celestial body.
According to the inscriptions and recordings found on the walls of Navagraha temple, its origin dates back to the 18th century, to the reign of Ahom king Rajeswar Singha, son of Rudra Singha or Sukhrungphaa. A great earthquake destroyed a considerable portion of the temple a few centuries later, which was later rebuilt with ridged iron sheets. However, the Garbhagriha, built of brick, exists till date. Along with the temple, a tank was also excavated at some distance, to provide regular and easy water for the devotees who came to pay homage to the Gods. This tank, known as Silpukhuri, continues to supply water to the needy till date and is as full of water even today.
Surya Puja or Sun worship is an ancient practice of the Assamese people. A number of other temples are also present within the state for this purpose. Among them, the one worth mentioning is the Surya Mandir located atop the Surya Pahar hill in Guwahati. Navagraha temple is an important astrological and astronomical center in the state. In fact, scholars and the historians feel that the ancient name of the state i.e. Pragjyotishapura originated from this temple only. The word Prag means eastern region, while jyotisha means star astrology. Hence, the region is also called the 'Eastern City of Astrology'.