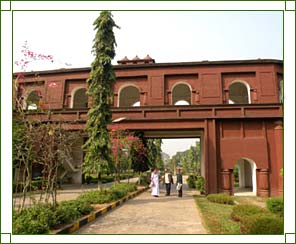 Location:
Shillong Road in the Panjabari district, Guwahati, Assam
Built In:
1990
Dedicated To:
Vaishnava Saint Sankardeva
Srimanta Sankardeva Kalashetra, situated in Guwahati, is one of the most famous tourist attractions of Assam. It was constructed in 1990, with the aim of exposing and exhibiting to the world, the exclusive culture and tradition of Assam. It is named after the greatest saint of the Vaishnava culture, Srimanta Sankardeva. The saint was a great reformer of the 16th century and is also regarded as the Father of Assamese literature. The major attractions within the Kalashetra are the central museum, an open-air theatre, an art gallery and a traditional Vaishnavite temple.
Srimanta Sankardeva Kalashetra also houses a library, within the premise, called the Sahitya Bhavan library. This is where a rare collection of the famous Assamese books and age-old manuscripts has been preserved. In the Central Museum, a collection of the cultural articles and objects used by the indigenous tribes, on an everyday basis, are preserved and displayed. Articles made of bamboo and cane, handmade weaving products, ethnic toys made of cloth and wood etc are preserved here with great care. There is also a Bhavan inside the Kalashetra, called the Lalit-Kala Bhavan, where there is a huge space for exhibition, art, and sculpture workshops.
The open-air theater serves as the venue of many cultural activities and has a total seating capacity of about 2000 persons. Traditional dances, musical recitals, dramas and such other cultural activities are held in this area, on a regular basis. However, the most famous among all features of the Kalashetra is the artificial village, where the atmosphere of a typical Assamese village is recreated for the visitors. Other features include a Heritage park and cultural programs for children. Indeed, the Kalashetra is a modern multi arts complex, promoting the rich heritage and culture of Assam in all its diversity.