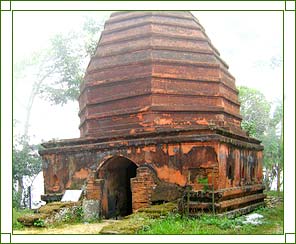 Located:
Peacock Island, Guwahati, Assam
Constructed By:
King Gadadhar Singh of the Tai- Ahom Dynasty
Year:
1694 A.D
Significance:
Pilgrimage centre
Devoted To:
Lord Shiva
The Umananda Temple is located on the Peacock Island in the middle of the river Brahmaputra in Guwahati. The only way to reach the temple is by ferries and motor launches from the Umananda Ghat situated between the State Bank of India and the Ashoka Hotel in Guwahati.
Dedicated to the worship of Lord Shiva, Umananda is the most revered temple in the entire state and entices tourists from far and wide to come and visit it. During the occasion of Shivratri, every year, thousands of worshippers come to this part of the state to seek the blessings of the Lord.
In 1694 A.D., the temple was constructed by Bar Phukan Garhganya Handique under orders from King Gadadhar Singh of the Tai-Ahom dynasty. The innumerous engravings and sculptures that adorn the rock walls of the temple are incomparable in beauty and depict the excellent craftsmanship of the local Assamese artisans. Practically, all the principal Hindu gods like Surya, Shiva, Ganesha and Devi has been engraved beautifully in the rock walls of the temple. Apart from this, sculptures of Lord Vishnu and his ten incarnations are also found in the vicinity of the temple.
The plot of land over which the temple has been raised is called Bhasmachala. Legend has it that once, while Lord Shiva was meditating on this hillock, Kamadeva interrupted his yoga and was burnt to ashes by the fire of his anger and hence the name. According to the Kalika Purana, goddess Urvashi who brings nectar for the pleasure of Kamakhya resided here and therefore, the island is also called Urvashi Island.
Due to a devastating earthquake in 1897, a considerable portion of the temple was damaged. This was later reconstructed by a rich local merchant who also added Vaisnavite inscriptions to the interior part of the temple. It is a popular belief that worshipping here on an Amavasya day, especially when it falls on a Monday, brings the highest bliss. Besides this, the Shiv Chaturdasi is also held here annually for the worship of the deity.