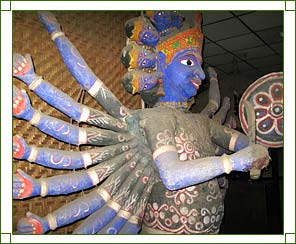 Location:
Southern end of Dighalipukhuri Tank, Guwahati
Built In:
1940
Timings:
10 am to 5 pm (summers), 10 am to 4.30 pm (winters).
Closed On:
Mondays; 2nd and 4th Saturdays.
Highlights:
Prehistoric antiques, traditional artifacts, photo gallery
Assam State Museum is a representation of the unique culture and tradition of the northeastern state. It surpasses all the other museums in India, as the biggest multipurpose museum displaying collections in a variety of sections, like archeology, iconography, epigraphy and even numismatics. All the shades and aspects of the Assamese culture and history are laid down in this museum, a systematic manner, for the world to see and appreciate.
Ever since Assam State Museum was constructed in Guwahati, it has made a serious effort to bring forward each and every aspect of the Assamese lifestyle and also of the varied tribes of the state. There is a grand display of ancient Assamese coins, fabrics, tribal arts and sculptures therein. Exhibitions of reconstructed tribal huts are also present and a walk through these will make you feel as though you have been transported to a typical Assamese village.
There is also an exhibit of the traditional weaving in Assam State Museum, along with other handicraft products, like locally-made cane and bamboo items, toys, pottery, etc. The library of the museum is situated upstairs and is the best place to go, if you want to get any information on the various items present therein. Besides, age-old paintings and manuscripts are also present in the museum, giving the onlookers a gist of the rich culture and heredity of the state.
Among the archaeological and ethnographic displays in Assam State Museum, the ones that are sure to grab your attention are the local costumes, and terracotta, stone and copper plate inscriptions, dating from the 5th century and 12th century, apart from sculptures of 'Surya'. Generally, photography within the museum is prohibited, but if you get the permission of the authorities, you may be able to capture a few of these unique moments and exhibits on celluloid.