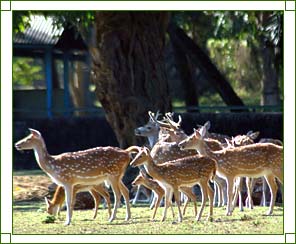 Location:
Near R G Barua Road Guwahati
Area:
130 hectares (zoo) and 82 hectares (garden)
Spread over an area of 130 hectares, Assam State Zoo is the only zoo in India where a natural forest still exists. It is one of the major zoos of the country and boasts of a unique diversity of animal habitat. The botanical garden located within the same vicinity is called Guwahati's green retreat. Assam State Zoo & Botanical Garden is one of the most frequently visited tourist destinations in the city of Guwahati and has a very good collection of flora and fauna within its vicinity.
Some very rare and endangered species of wildlife are also found in the Assam state zoo. Swamp tapirs, white tigers, leopards, and the great Indian one-horned rhinoceros are some among them. The zoo also has the African two-horned rhino. It is also rich in some rare species of bird life. The zoo remains open for visitors every day of the week, except on Fridays. It is about 5 km from the railway station, near the R G Barua Road in Guwahati, Assam.
Assam State Botanical Garden was established in the year 1982 and houses around 44 different varieties of orchids, which have been collected from the northeastern zone of India. Special varieties of orchids that are typical to the mountainous region of Assam also find a place in the orchid house of the garden. Besides this, the garden has a variety of palm trees, conifers herbs and shrubs. The total area of the garden is around 82 hectares.