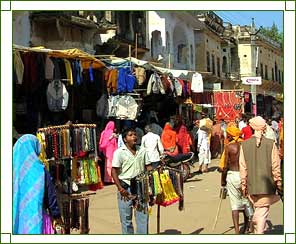 Guwahati is the largest city as well as the main business centre of the state of Assam. As such, shopping in the region is very interesting and is an unforgettable experience for the tourists and travelers. There is always something there for every person and visitor to carry back home, as souvenirs and mementos for themselves and for their near and dear ones. The main shopping areas of the city are Fancy Bazaar, Paltan Bazaar, Ulubari, Ganeshguri and the GNB Road. Let us explore some more information on the popular shopping items as well as shopping places in Guwahati.
Shopping Items
One of the must-haves on a shopping expedition to Guwahati is the exquisitely made bamboo and cane products. A number of items are made from bamboo and cane, right from household furniture to hairclips and other fashion accessories. Being rich in traditional handloom products, Guwahati offers a delightful range of exclusive silk sarees and mekhela chaddar (traditional attire), in the innumerous indigenous shops and emporiums. There is also a huge variety of other gift items, like wall hangings, caps and shawls. Other items include handmade toys from clay, pith, wood, and bamboo; Laichampi (a quilt like material); bell metal & brass utensils and tribal arts, like masks.
Shopping Places
Right from domestic to international brands, the shopping areas in Guwahati offer you a wide selection in goods. If it is traditional silk products that you are looking for, then the local bazaars are the best place to shop. The market areas in Pan Bazaar and Fancy Bazaar are excellent for purchasing bamboo and cane products at very reasonable price. The major malls in the city are the Hub, Bhangagarh, Dona Planet, G.S. Road, Vishal Megamart, the Cube Mall and Sohum Shoppe, Kolkata Bazaar and Salasar. Recent additions to this list of shopping centers are Pantaloons, Big Bazaar and other malls in the FFORT Mall at Kachari Basti, G.S. Road.