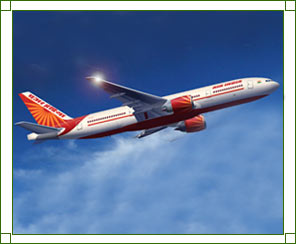 Guwahati serves as the main gateway to the northeastern precinct of India and so, the transport system is given much importance. There is a good network of trains that connects the city to all important places not only within the state, but also the different parts of the country. The distance of the city from the nearest metro, Kolkata, is a mere 1151 km. and it takes only one and a half hours to reach Guwahati from the city, by air. The railway station and airport in the city remains busy throughout the year. Given below are the various ways of reaching Guwahati, safely and conveniently.
Traveling to Guwahati
By Air
Connected to the all the major cities within and outside the state, Gopinath Bordoloi Airport of Guwahati provides air services on a regular basis and also acts as a base for the Indian Air force. Within the state also, the airport is connected to all the other air bases, like Mohanbari Airport at Dibrugarh, Lilabari at Lakhimpur and Rowriah at Jorhat.
By Rail
Paltan Bazaar Railway Station, located in the western zone of Guwahati, is a major link to the various parts of India. A number of trains operate regularly to cities, like Delhi, Kolkata, Chennai, Bangalore, Bhubaneshwar, Mumbai, Kochi and New Jalpaiguri, from here. The famous Rajdhani Express provide regular service to and from Delhi. The railway station connects Guwahati to other cities within the state as well.
By Road
The Assam State Transport Corporation is a very popular road transport system that provides services to the different parts of Assam and also to the neighboring states like Meghalaya, Arunachal Pradesh, etc. The corporation provides regular and luxury buses for the normal bus routes and mini buses for hilly areas. Operating 24 hours a day, the organization also has some deluxe and Volvo buses at very affordable ranges. Besides this, they also provide city buses within Guwahati.
By Water
Inland waterways have been a major means of trade and communication in Assam since a long time. The Central Inland Waterways Corporation and the Directorate of Inland Waterways have joined hands to provide reliable water transport services within the state. This service is very valuable for the people of Assam. In fact, for some parts of the state, this is the only mode of transportation. The navigable waters of the Brahmaputra and the Barak are mostly used for this purpose. Within the city of Guwahati also, a number of ferries operate on a daily basis, for the transport of passengers and also for commercial purpose.