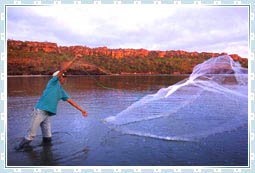 One of the major attractions for tourists in the Kashmir valley is fishing. With the ending of the winter season starts the season for fishing in Kashmir, India. However, for fishing in the valley, one requires to get a permit. There are a number of other restrictions also like only artificial flies are permitted, you can keep only 6 fishes a day, etc. The best time for fishing in Kashmir is from April to October.
Kashmir valley has a number of lakes, rivers, streams, etc, where you can go for fishing. There are three major fishing places in Kashmir, namely
Rivers (Jhelum, Sindh, Liddar, Wangat, etc)
River tributaries and other water channels
Lakes (Dal, Krishanshar, Vishanshar, Gangabal, Nunkhol, etc)
You do not need to worry about equipment for a fishing tour in Kashmir. The administration and tourism department of Kashmir have made proper provisions for fishing facilities as well as equipments, for the travelers. The flies that are generally used in Kashmir include Peacock, March Brown, Butcher, Jinger Quill, Coachman, Woodcock & Green, Watson's Fancy, etc.