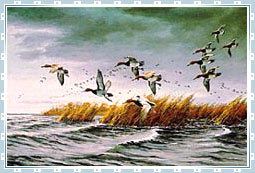 Overa Wildlife Sanctuary is situated at a distance of approximately 76 km from Srinagar. Located in the southeast of Srinagar, near Pahalgam, the sanctuary boasts of some rare, endangered and protected species of birdsand animals. Stunning mountain landscapes, grass-clad hills and deep valleys exemplify the features of the Overa Wildlife Sanctuary of Kashmir. Home to numerous birds as well as animals, the sanctuary houses some assorted and outstanding species of pheasants. Some of them are the Himalayan snow cock, Monal, Chukar and Koklas.
Rich Flora of Overa Wildlife Sanctuary
The rich flora of the Kashmir, India Overa Wildlife Sanctuary consists of a variety of floral compounds, mainly including the conifers. Some of the major species are Pinus griffithii, Abies pindrow, Morus Alba, Juglans regia, etc. The primary shrub of the sanctuary consists of Indigofera heterantha, Desmodium tiliaefolium, Isdon spp., etc. Covering the ground is a major layer of Dicotlydonous herbs, comprising of Taraxacum officinale, Artemisia vulgaris, Anemone spp., etc.
Wildlife Attractions at Overa
Wildlife Sanctuary Priding itself on housing 13 species of animals, the Overa Wildlife Sanctuary houses some of those threatened species of mammals, which are faced with the possibility of extinction. The best time to see the rich wildlife of Overa is from September to April. The wildlife of the sanctuary consists of Leopard cat, Musk deer, Hangul, Langur, Rhesus macaque, Leopard, Serow, etc.
Birds at Overa Wildlife Sanctuary
There are also approximately 80 species of birds in the sanctuary. Apart from the exotic pheasants, avian life consists of the Bearded vulture, Red billed chough, Indian mynah, Himalayan whistling thrush, Jungle crow, Griffon vulture, etc. The best time for bird watching is from March to August.