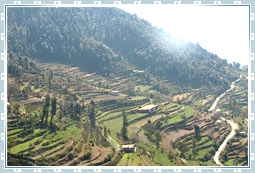 Jammu excursions consist of some of the finest tourist places around the Jammu city. These places range from hilltop resorts to some of the famous pilgrim places. Lets take a brief tour of some of the excursion points around Jammu city.
Mata Vaishno Devi (50 km)
One of the most popular excursions around Jammu is the shrine of Mata Vaishno Devi. The small town of Katra, approximately 50 km from Jammu, serves as base camp for undertaking the long trek to the shrine of Mata Vaishno Devi.
Kud (103 km)
Kud is a popular resort located approximately 103 km from Jammu, on the Jammu-Srinagar highway. Situated at a height of 1738 m, it has accommodations in the form of J&KTDC tourist bungalows and private hotels.
Patnitop (112 km)
The famous places to see around Jammu also include the Patnitop hill resort. Located on the Jammu-Srinagar highway at an altitude of 2024 m, it offers picturesque surroundings, amazing picnic spots, serene walks, etc.
Sanasar (119 km)
Encircles by huge conifers, Sanasar comes up as a cup shaped meadow. The major attractions of Sanasar are its tranquility, amazing gold course and opportunities for paragliding.
Batote (125 km)
Batote is also a hill resort, situated at a height of 1560 m on the Jammu-Srinagar National highway. The resort provides some spectacular sights overlooking the Chenab gorge.
Sudh Mahadev (120 km)
Sudh Mahadev is a shrine dedicated to Lord Shiva, situated at a height of approximately 1225 m. The shrine gains significance especially on the full moon night of Sawan (July - August), when devotees come here to worship the "Trishul" (trident) and a mace, alleged to be of Lord Shiva. There is also a "Devak" stream originating at Sudh Mahadev and vanishes amid the rocks after a few km.
Gauri Kund
The Gauri Kund is located near the Sudh Mahadev. It is believed to be the spring where the Goddess Parvati used to take a bath before starting "Her" daily prayers at Sudh Mahadev.
Mantalai
Mantalai, enclosed by deodar forests, is also located near Sudh Mahadev. It is said to be the venue of the marriage between Lord Shiva Goddess Parvati.
Mansar Lake (62 km)
A picturesque lake near Jammu, Mansar stands fringed by forest-covered hills. It is also believed to be a holy site, where newly-weds come to take three circumambulations (Parikarma) and seek the blessings of Sheshnag, the lord of serpents. There are a number of shrines on the banks of Mansar Lake, including that of Sheshnag.