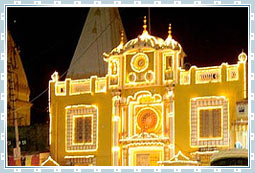 Being the city of temples, Jammu has numerous pilgrimage places. People of all faiths have their pilgrimage places in and around the Jammu city. If there are temples in Jammu, there are gurdwaras, dargahs and churches too. Have a look at various pilgrimage destinations in and around the Jammu city.
Peer Khoh
One of the famous Jammu pilgrim destinations is Peer Khoh. The cave of Peer Khoh is situated on the Circular Road in Jammu. The cave shrine is famous for a naturally made Shiva Lingam. Legend has it that the cave has underground routes to other cave shrines of Jammu as well as of India.
Ranbireshwar Temple
Ranbireshwar temple, built by Maharaj Ranbir Singh in 1883, is dedicated to Lord Shiva. The shrine houses a 7.5 ft high central Shiva Lingam, along with twelve 15 cm high Shiva Lingams of crystal. The galleries of the shrine are adorned with thousands of Shiva Lingams fixed on stone slabs.
Raghunath Temple
Maharaja Gulab Singh laid the foundation of Raghunath temple in 1853. However, his son, Maharaja Ranbir Singh, got the shrine completed in 1860. The temple, dedicated to Lord Rama, is surrounded by a number of other shrines dedicated to various Gods and Goddesses connected with the epic Ramayana. The inner walls of the main shrine are covered with gold sheet on three sides.
Peer Baba
Peer Baba is one of the Muslim holy places in Jammu. However, it is revered by Muslims, Hindus and Sikhs alike. It is the Dargah of a Muslim Saint, Peer Budhan Ali Shah.
Ziarat Peer Mitha
Ziarat Peer Mitha is a mosque situated in the center of Jammu. It also houses the tomb of Pir Ziarat, who was popularly known as Peer Mitha. The ziarat came to be known by this name because he readily accepted even a pinch of sugar in the offerings.
Mahamaya Temple
The Mahamaya Temple is situated on the by-pass road, behind Bahu Fort. Surrounded by the city forest, this ancient temple overlooks the Tawi River of Jammu.
Gurudwara Shri Guru Nanak Dev Ji
The Gurudwara of Shri Guru Nanak Dev Ji is one of the many Gurudwaras in Jammu. It houses a three ft long white marble statue of Guru Nanak Dev Ji in a separate room, said to have installed by Maharaja Partap Singh.
Protestant Church
The Protestant church on Wazarat road is the oldest Church in the Jammu city.