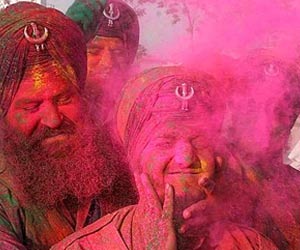 Time:
March
Venue:
All over Punjab, especially Muktsar and Anandpur Sahib
Significance:
Festival of armory
Highlights:
Prayers and kirtans, Sports like mock sword and spear battles, Dance, music and poetry competitions
Holla Mohalla derives its name from the Punjabi word "Mohalla", meaning an organized procession in the form of an army column, accompanied by war drums and standard -bearers. This festival is celebrated in a spectacular manner in all parts of Punjab, especially in Muktsar and Anandpur Sahib. Holla Mohalla is celebrated in the month of March, one day after Holi. Holla Mohalla is celebrated for three consecutive days. It is organized in a full-fledged manner in Anandpur, at Holgarh Fort, every year. The celebration has been recognized by the Govt. of India as a National Festival.
Origin
Holla Mohalla was started by Guru Gobind Singh, the tenth Sikh Guru, on 1st March 1757, on Chet Vadi at Anandpur. It was organized in the form of a procession, to ward off the gloomy struggle against the imperial power, following the Battle of Ninnohgrah in 1700. Guru Sahib told his Sikhs to wake up to their responsibility and duty as Akaal Purakh Ki Fauj (the Army of the Almighty), to defend the truth and protect the society. Since 1757, Holla Mohalla has become a popular event of the state. It provides a unifying factor to all the Punjabis.
Celebrations
Holla Mohalla marks the New Year day, as per lunar Nanakshahi calendar of Sikhs. The celebrations start with morning prayers, followed by the ceremonious bathing of Guru Granth Sahib with milk and water. Then, it is placed on a platform and venerated. Kirtans and recitation of religious phrases goes on continuously. After this, kadha prasad is distributed amongst people. People participate voluntarily in the preparation and distribution of the prasad and in cleaning the utensils.
On Holla Mohalla, the pilgrims are also offered traditional langars (free meals) by the sewadars (volunteers), as per the Sikh tradition. On the last day of the festival, a long procession is led by the Panj Pyaras. It starts from the Takth Keshargarh Sahib, one of the five Sikh religious seats in the counrty, and passes through various important gurdwaras, like Quila Anandgarh, Lohgarh Sahib and Mata Jitoji and terminates at the Takth. The festival is not only the time to rejoice, but also to restore faith in the Khalsa Panth.
Attractions
A number of cultural attractions are organized during Holla Mohalla. The Ninhang Sikhs, who are a part of the Sikh army founded by Guru Gobind Singh, exhibit their martial arts through mock battles and sword fights. They are dressed in most impressive dress - deep blue robes with saffron girdles, high conical turbans decorated with steel rings, flowing beards, and twisted moustaches, while carrying spears and swords. Wrestling is another important attraction of the festival. Several daring acts are displayed as well, like bareback horse riding, standing erect on two speeding horses, tent pegging, etc.
Many sport competitions are held on Holla Mohalla, like kabaddi, weight lifting, cycling, football, acrobatics and twisting an iron-rod by placing it on Adam's apple. Various sports meet are organized, some of the important ones being Kila Raipur Sports Meet, Kalgidar Tournament of Kamalpur, Dhudike's Lala Lajpat Rai Memorial Sports Fair, and so on. Many local games are also enjoyed, like bull-fighting, cock-fighting etc. Music, dance, and poetry programs enrich the cultural aspect of the festival. Thus, Holla Mohalla is a festival of both religious as well as cultural celebration.
People from all the communities irrespective of their caste, creed and sex participate in the festival whole-heartedly.