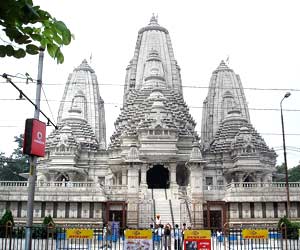 Location:
Ballygunge, Kolkata
Dedicated to:
Lord Krishna and Radha
Inaugurated in:
1996
Kolkata is the land of festivals, celebrations and devotions. There are several temples in the city, dedicated to different God and Goddess. One of them is the grand Birla Temple. Built by the famous Birla family of India, the temple is one the most beautiful and well maintained temples of India. Constructed out of sandstone and white marble, it is basically modeled on the Laxmi Narayan temple at Bhubaneshwar. The temple attracts thousands of visitors every day.
The Birla Temple of Calcutta is dedicated to Lord Krishna and his beloved Radha. Thousands of people come here from various parts of the state, to offer their prayers on Janmashtami. Various messages from Bhagavad-Gita have been carved on its marble interiors. Apart from Krishna and Radha, idols of Shiva and Durga have also been installed in the temple. The temple is a perfect example of beauty and devotion, blended together to give a majestic aura.
The interiors of Birla Mandir are jaw-drop gorgeous, with wonderful marble finishing. The engravings in marble are blended with the intricate Rajasthani architecture, to give a unique touch to the building. The electric diyas and wonderful chandeliers add to its charm. The exteriors of this colossal temple have been done with sandstone. The construction of this building took about 22 years to be completed, before it was opened to public in 1996.