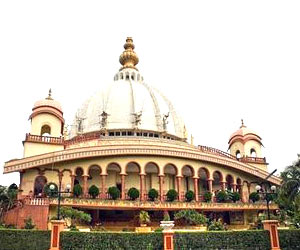 Location:
Mayapur, near Kolkata
Dedicated to:
Radha Madhava
Highlights:
Headquarters of International Society for Krishna Consciousness
There are several religious trusts and religious orders in India. One of the most popular is the International Society for Krishna Consciousness i.e. ISKCON. The ISCKON society was founded by his divine grace A.C. Bhaktivedanta Swami Prabhupada, in the year 1966. The society focuses on Krishna devotion worldwide. In the last 43 years, it has developed into a worldwide confederation. The chain of ISCKON presently owns 10,000 temple devotees and 250,000 congregational devotees throughout the world.
Popularly known as the Hare Krishna movement, the ISCKON society has 350 centers, 60 rural communities, 50 schools and 60 restaurants worldwide. The international headquarter of the society are based at Mayapur near Kolkata. It takes approx 3 hours to reach Mayapur from Kolkata, by road. Through its headquarters at Mayapur and other centers, ISCKON society spreads its mission of its unsectarian, monotheistic movement. It is stated to be meant for the well being of the entire humanitarian society, preaching them the holy science of Bhagavad Gita and other ancient scriptures.
The ISCKON society plans to build its largest temple in Mayapur. The construction of this marvelous building has started in the city. When complete, this temple would be surrounded by the ISCKON society city and will also have its own Vedic planetarium. Right now, the city houses an ISKCON temple with Radha Madhava deities. The idols are surrounded by eight gopis, four on either side. The idols of Narasimhadeva and the Pancha-tattva can also be seen here. It is one of the most visited religious places in the city.