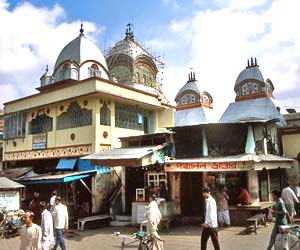 Location:
Banks of Adi Ganga River, Kolkata
Dedicated to:
Goddess Kali
Kolkata is not only the land of festivals and celebrations; it is also the place of immense devotion. Goddess Kali is the Mother Goddess of the city and she is worshipped with immense dedication and faith by its people. There are several temples in Calcutta dedicated to the Goddess, the most famous and prominent being the Kalighat Temple. It is often said that the city of Kolkata was named after this temple only, which was later anglicized as Calcutta. Located near the bank of river Hooghly, this temple is visited by thousands of devotees every day.
Kalighat is one of the 52 Shaktipeeths, the most sacred holy places of India. It is said that Sati, the consort of Lord Shiva, offered herself to fire in her father 'sholy ritual called 'Daksha Yagna' because of Shiva's insult, Lord Shiva, out of anger, took her body out of the fire and moved toward Kailsh, his holy abode. On the way, several parts of Sati fell on earth, making these places extremely holy and worshipable. The place where the present Kalighat stands, in Calcutta, is said to be the holy place where the toe of Sati fell on earth.
Kalighat Kali Temple is said to be built long ago, even before 15th century, as there are references of this temple in the earlier texts. It is said that the original temple was a small hut built by some devotee. However, the present temple was built about 200 years ago, by Sabarna Roy Choudhury family of Barisha. The statue of the Goddess in the temple is made of black stone, adorned by gold jewelry. The most prominent part of the idol is the gold tongue that is protruding out. In the months of Bhadra, Paush & Chaitra, it gets flooded by devotees.