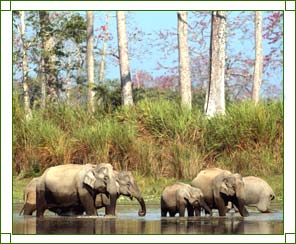 The literal meaning of Assam i.e. "peerless", derived from the word 'Asom', comes alive when we talk about its incredible natural beauty. Assam is blessed with unkempt beauty and scenic grandeur. With its world-class tea, the state is also renowned for its pristine wildlife sanctuaries. An excellent environment and luxuriant bio-diversity makes Assam an unparalleled state, supporting a variety of wildlife. Not only that, Assam is home to several endangered and rare species of flora and fauna as well, including the Golden Langur, Hoolock Gibbon, Pygmy Hog, Hispid Hare, White-Winged Woodduck, Clouded Leopard, Swamp Deer and many more.
Assam also has the highest density of tigers in the world and houses the most number of one-horned rhinos. Rightly considered as a traveler's paradise, this mysterious land of eternal Blue Mountains and lush green forests has lot to offer to a tourist. It is one of those places on earth where a rich variety of wildlife exists. Surrounded by tropical rainforests, deciduous and bamboo trees, it offers an excellent abode to hundreds of migratory birds. A trip to Assam can be rightly considered incomplete without a visit to its national parks and wildlife sanctuaries.
Manas National Park
Nestled at the foothills of the mighty Himalayas, Manas National Park is one of the most seraphic wildlife surroundings in India. Deriving its name from the Manas River, taken from the serpent goddess Manass, Manas National Park is the only home to many exotic animals, like the rare and endangered Assam Roofed Turtle, Hispid Hare, Golden Langur and Pygmy Hog.
Gibbon Wildlife Sanctuary
Since its establishment in the year 1997, Gibbon Wildlife Sanctuary has been playing a major role in the research and conservation of the primate community of the animal kingdom. The sanctuary is situated at an approximate distance of 19 km from the city of Jorhat and covers a total area of about 20.98 sq km.
Kaziranga National Park
Kaziranga National Park is situated on the banks of the river Brahmaputra, in the northeast state of Assam. Covering a total area of about 430 sq km, it is one of the most famous tourist attractions of the state. The history of the park can be traced back to the era when Mary Victoria Leiter Curzon, the wife of Viceroy of India Lord Curzon, visited the place, in the year 1904.
Nameri National Park
Around 35 km from the city of Tezpur, at the foothills of the eastern Himalayas, is situated one of the most exquisite park of Assam - Nameri National Park. Covering a total area of about 200 sq km, it is considered to be one of the richest as well as the most threatened reservoirs of the plant and the animal kingdom.