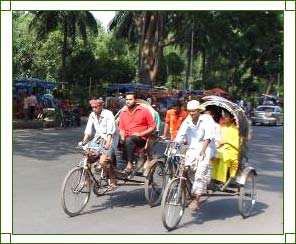 Assam, being a major tourist spot, is visited by a large number of travelers, both domestic as well as foreign, throughout the year. This is one of the reasons why the local transportation in the state has been given utmost importance. Right from the bus services to taxi stands and even water transport, you will find all modes of public transport in the state, facilitating intercity as well as intra-city travel. Broadly, the local transportation of Assam can be categorized into the following groups.
Public Transport in Assam
Roadways
ASTC (Assam State Road Transport Corporation), a very well known passenger road transport organization, operates a wide range of bus services within the state. Providing 24 hours service, the ASTC has regular as well as some luxury bus operating for normal routes and special mini bus operating for the hilly areas. Night buses are also available to the different parts of Assam and that too at a very reasonable rate. These include the night super deluxe, super fast deluxe, executive class, AC class and the very recent Volvo. Reservation counters are available in all parts of Assam. Nowadays online ticket reservation can also be done.
Railways
The railways of Guwahati, one of the major cities in Assam, serve as the gateway to the northeastern corner of India and therefore, remain busy all throughout the year. It connects all the cities in Assam to each other as well as the rest of the country. Besides this, all the major cities of Assam like Dibrugarh, Tinsukia, Jorhat, Nagaon, Tezpur, Barpeta, and Bongaigaon are well interconnected. The BG line connects to Dibrugarh and the MG to Haflong and Silchar.
Airways
The famous Lokpriya Gopinath Bordoloi International airport is located at Guwahati. It connects the state with all the 4 metros of India and also has a weekly international flight to Bankok. Other airports include Mohanbari airport in Dibrugarh, Salonibari in Tezpur, Lilabari in Lakhimpur, Rowriah in Jorhat and Kumbhirgram in Silchar. They are domestic airports, catering to the travel needs within the state as well as from cities outside its boundaries.
Inland Water Transport
Commercial water transport operates over Brahmaputra and Barak rivers of Assam, on a daily basis. For several parts in the state, such as Majuli Island, inland waterways are the only modes of transport. The Central Inland Waterways Corporation and the Directorate of Inland Waterways work hand in hand to promote this service.
Rickshaws
Rickshaws are, by far, the best modes of intercity transport, which are easily available and that too at very low rates. You can get auto as well as cycle rickshaws within the cities, from which you can choose one depending upon the distance to be covered as well as the budget in hand.
Taxis/ Cabs
Hired taxis are also available in Assam, for both intercity and intra-city transport. They can be either self driven or chauffeured and prove to be a comfortable means of traveling from one place to another. However, hired cabs are a bit expensive, especially if one is on a budgeted trip.
Others
Apart from these, several others means of transport are also used in Assam, especially while visiting the various sanctuaries of the state. These include jeeps, mini buses, and even elephants.