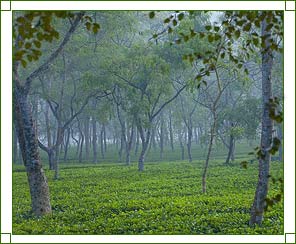 The climate of Assam is typically 'tropical monsoon rainfall' type, with high levels of humidity and heavy rainfall. People here enjoy a moderate climate all throughout the year, with warm summers and mild winters. In the monsoon season, the whole state comes alive with the beauty of nature. Climatic variations can be seen regionally. While the plains of Assam have a tropical climate with high humidity, the hills have a sub-alpine type of climate. There are four distinct seasons in Assam - summer, monsoon, autumn and winter. The best time to visit the place is the winter season i.e. from October to April, which is also the festive season of Assam. Let us gather some more information on the weather and climate of Assam.
Summers
The summer season in Assam starts from the month of March and extends till the end of June. The season is characterized by extreme humidity and frequent showers. The average temperature during this time of the year is between 35 and 38 degree Celsius. In fact, the mercury level never rises more than 38 degrees, even in the hottest month of the year. So, light cotton clothes are the best option during summers.
Monsoons
This season brings relief from the scorching heat of the summers. The neighboring areas of Cherapunji and Mawsynram have the highest rainfall in the world. The average annual rainfall in the state is around 70 inches in the west and around 120 inches in the east. In the afternoons, thunderstorms known as Bordoicila are very common. The season covers the entire state with a green blanket.
Winters
The winter season in Assam is basically characterized by scanty rainfall and misty mornings and afternoons. It starts in November and continues till the month of February. The mercury reading at this time of the year is around 6 to 8 degree Celsius or 43- 46 degree Fahrenheit. This is the best time to visit the northeastern state of Assam.
Spring & Autumn
In Assam, spring (March- April) and autumn (September- October) present pleasant seasons, with moderate temperature and rainfall. These are amongst the popular months for tourist rush. As it is neither too cold nor too hot, you don't have to carry any special type of garment for these seasons. Therefore, if you are planning a trip to Assam, spring and autumn may be your choice.