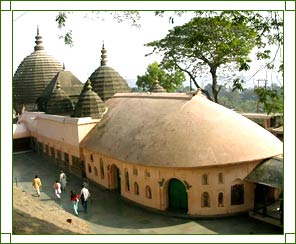 Location:
Nilachal Hills in Western Guwahati, Assam
Dedicated To:
Different forms of Mother Goddess
Built By:
Chilarai, of the Koch Dynasty
Built In:
1565
Kamakhya temple is one of the biggest Shakti shrines in the whole of India and also serves an important pilgrimage center for the tantric worshippers as well as the general Hindus. It is a place where the beliefs and practices of the Aryan communities coincide with those of non-Aryan communities, in Assam. The earlier form of the temple was destroyed by the Kala Pahar and was later reconstructed by the reigning king of the Koch Dynasty, Chilarai, in the year 1565. The current structure is a sacred complex consisting of three major chambers.
The large western chamber of Kamakhya temple is rectangular in shape, while the middle chamber is square and contains inscriptions and images of Naranarayana of the Koch Dynasty. However, the most sacred shrine located within the temple is in the third chamber. This chamber is in the form of a cave and has a yoni-like cleft in the bedrock. There is a natural spring that flows through the cleft and keeps it moist. The whole temple, in general, is dedicated to the different forms of Mother Shakti, namely Sundari, Tripura, Tara, Bhuvaneshvari, Bagalamukhi and Chinnamasta.
Apart from these shrines dedicated to Mother Goddess, there are five temples located within the complex of Kamakhya temple, dedicated to the different forms of Lord Shiva (Heruka, Tatpurusa, Aghpra, Umananda and Siddhesvara) and three temples of Lord Vishnu as well, in the form of Kedara, Gadadhara and Pandunath. The temple is one of the biggest Tantra worshipping centers in India, attracting thousands of sanyasins and babas every year, to honor the Mother.
A number of legends and myths have been associated with Kamakhya temple. Some believe that it is one of the Shakti Peeths, where, the reproductive organ (yoni) of Sati settled on the earth, following Her death. Many others associate the temple with Goddess Kali and emphasize the creative symbolism of the yoni. The major festival of the temple is the Ambubachi mela, held annually to celebrate the yearly menstruation of Goddess Kamakhya. It is said that during the month of Ahar (i.e. mid June), the natural spring that flows through the yoni like image of the Goddess turns red, resembling menstrual fluid.
At the time of Ambubachi mela, Kamakhya temple remains closed for three days and on the fourth day, the door is opened and a number of rituals are performed. Thousands of devotees and tourists line up at the temple, on this day every year, to observe the unique phenomenon and get the blessings of the Goddess. Besides this, a number of other pujas are held in the temple all round the year. These pujas include Durga Puja, Durgadeul, Madandeul, Manasa Puja, Pohan Biya and Vasanti Puja. Offerings are mainly in the form of flowers and fruits, but may include animal sacrifices as well.