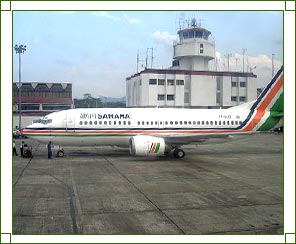 The state of Assam serves as the major gateway to the whole of the northeastern zone in India, so the airports here are of extreme importance. There are a total of six airports in Assam, with one of them serving international destinations as well. Mainly serving on a domestic basis are Mohanbari Airport, Lilabari Airport, Salonibari Airport, Rowriah Airport and Kumbhirgram Airport. It is the Lokpriya Gopinath Bordoloi International Airport of Guwahati that serves international destinations. Let us know more about each of these six airports in Assam.
Major Airports in Assam
Lokpriya Gopinath Bordoloi International Airport, Guwahati
Named after the first chief minister of Assam, Lokpriya Gopinath Bordoloi, Guwahati Airport covers a number of international destinations, like the neighboring country of Thailand. It also acts as a base for the Indian Air Force. The airport offers state-of-the-art facilities, like restaurants, bookshops, information centers and aid to the aged and physically handicapped.
Mohanbari Airport, Dibrugarh
Mohanbari Airport of Dibrugarh is located at a distance of 15 km from the centre of the city. A number of flights, like the Indian Airlines, Air India, and Air Sahara, operate from here, connecting Dibrugarh to major cities, like Delhi, Mumbai, and Bangalore, apart from the other airports within the state. This is one of the busiest airports of Assam, because of its close proximity with areas of leading industries like ONGC, OIL, and Coal India Limited, etc.
Lilabari Airport, Lakhimpur
Lilabari Airport of Lakhimpur also serves the state of Arunachal Pradesh and is around 9 kms from the town. It is said that this is one of the most strategically placed airports in the valley of Assam. The two major airlines connecting this region with the rest of the world are Air India Regional and Kingfisher Airlines, proving access to all the important areas within the state.
Salonibari Airport, Tezpur
Salonibari Airport is situated at a distance of 10 km from the heart of the Tezpur city and about 181 km from the city of Guwahati. This airport has daily flights from Guwahati and three flights per week to Kolkata and Jorhat. From the airport, cabs and buses are available to take the passengers to the city.
Rowriah Airport, Jorhat
Rowriah Airport is located in the city of Jorhat and regular flights are conducted from this place to the airports at Guwahati and Dibrugarh. The major flights operating from this place are Air India Regional, Jet Airways, Jetlite and the Kingfisher Airlines.
Kumbhirgram Airport, Silchar
This is another major airport located in Assam, in the Silchar region, known as Kumbhirgram Airport. It connects the city to areas like Guwahati, Agartala, Imphal, Aizwal and Kolkata. Some of the main airlines operating here are Indian Airlines, Kingfisher Airlines, Air India Regional, etc.