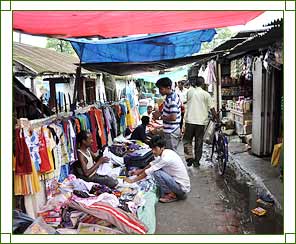 A trip, be it to any part of the world, is incomplete without shopping. Whether for your own self or as a souvenir for a friend or relative, shopping forms a part and parcel of traveling experience. Assam is well known for its traditional handloom products and the exclusive silk, called Muga silk. In fact, every region of the state has its own specialty, especially in terms of handlooms and handcrafts. Besides this, the state is also famous for its intricate cane and bamboo products. Hence, your shopping experience in Assam is sure to be a memorable one.
There are a variety of shopping places in Assam. Roadside shopping is very famous here. A special type of roadside market, called Bhutiya market, is present in certain regions of Assam. Shopping in these markets is particularly exciting, as you get a wide variety of clothes at very low prices. These shops are of major attraction to tourists as well as the natives. Besides these, there are a large number of malls and other shopping markets within the state. Apart from the traditional products, all the major brands and companies of India can be found in the urban areas like Guwahati, Dibrugarh, etc.
Shopping in Assam
Broadly, the shopping items in Assam can be classified under the following heads:
Traditional Handloom Products
Weaving is a major industry of Assam. Gamocha (Assamese towel), Mekhela Chaddar (Assamese sari) and Laichampi (quilt-like material) are the hallmarks of the traditional handloom products here. The raw materials for weaving may be cotton or the famous Assamese silk (Muga, Paat, Eri). Over the handloom products, images of flowers, birds and animals are usually seen. Cachar and Sualkuchi silk weaving centers are particularly famous for this purpose. Other common products include tablemats, cushion covers, shawls, and napkins.
Cane & Bamboo Products
One of the best known cane and bamboo products of Assam is the Japi i.e. the traditional sunshade. Originally serving the purpose of a shade for the open air workers, it is now used as an item of drawing room decoration. Other common bamboo and cane products include bamboo handbags, brooms, and stools (Murrah). State governments Emporia are, nowadays, trying to popularize a few artistic cane and bamboo products outside the state.
Metal Crafts
In every Assamese house, you are sure to find items made of bell metal and brass. The best examples are the Xorai and Bota, which are used in every house to honor guests, by offering them paan (stuffed betel leaves). Besides this, items made of gold, silver, and copper are also found here.
Others (Assamese Tea, Jewelry & Masks)
A visit to the state without a taste of the world famous Assam tea is futile. Known for its body and malty flavor, the tea is a major source of export for India. Talking about traditional Assamese jewelry, the popular items are doog- doogi, loka- paro, gam-kharu, gal-pata, and jan- biri. Masks made of terracotta, pith, metal, bamboo, and wood are used in the cultural activities of Assam. In recent times, they have found their way to the drawing rooms of the common people as well, as decorative items.