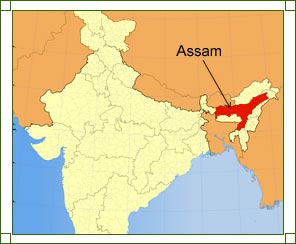 Latitude:
24-28 degree North
Longitude:
90-96 degree East
Area:
78,523sq km/ 30,318sq miles
Assam serves as a major gateway to the northeastern corner of India. It shares borders with the countries of Bhutan and Bangladesh and is surrounded by the states of Arunachal Pradesh, Nagaland, Manipur, Mizoram, Tripura and Meghalaya, which together with Assam, are called the Seven Sister States of the country. To the east of Assam lay Arunachal Pradesh, Nagaland and Manipur, to the west lay Bangladesh and Tripura, whereas Mizoram and Meghalaya lay to the south of Assam.
Dispur, the capital of Assam, lies in the north-eastern corner of the state. Had it not been for the narrow corridor called the Siliguri corridor in West Bengal, Assam would have been isolated from the rest of India. Geographically, Assam can be divided into Brahmaputra valley in the north, Barak plain in the south, and Karbi Anglong and North Cacher hills that divides the two regions. Let us explore all of them in detail, through the following lines.
Brahmaputra Valley
A major population of Assam resides in the vast Brahmaputra valley in the north. Amidst numerous mountains, streams and rivulets from the nearby hills, this extended valley offers a magnificent view and is a great attraction among tourists and travelers. The mighty river Brahmaputra enters the state after gorging through Arunachal Pradesh. It runs south-east and finally merges with the Ganges, to form a vast delta. Its entire course can be navigated from the Barak valley to the district of Dibrugarh.
Based on the flow of Brahmaputra River, the entire state of Assam can be divided into two parts Upper and Lower Assam. The major districts that come under Upper Assam are Digboi, Duliajan, Tinsukia, Dibrugarh, Sibsagar, Jorhat, and Golaghat. The districts that fall under Lower Assam include Dhemaji, Nalbari, Borpeta, Kokrajhar, and Bongaigaon.
Barak Valley
The southern zone or the Barak valley region of Assam is, in fact, an extension of the neighboring country Bangladesh. The major districts of this region are Karimganj, Cachar and Hailakandi.
Karbi Anglong & North Cachar Hills
Karbi Anglong, in the central part of Assam, covers a total area of 10,434 square kilometers and is the largest district of the state. It is also home to some major tribes, like the Bodos, Kukis, Dimasas, Tiwas, Gados and Khasis. To the south of the district lies the districts of North Cachar and Nagaland.
Often referred to as 'Switzerland of the East', North Cachar Hills make up a place of incomparable beauty and unending serenity. With a total area of 4888 square km, this enchanting landscape has many tourist destinations, like the mysterious Jatinga, Haflong, Maibong, Umrangso and Panimoor.